Welcome to the Maths Department
Curriculum Information 2020 - 2021
Mrs J Betteridge
Mathematics
Curriculum Leader
The Team:
Mrs Kathryn Uffindell Assistant Curriculum Leader
Mr Aaron Bufton Classroom Teacher
Ms Lesley Danks Classroom Teacher
Mr Daniel Heaven-Gandy Classroom teacher
Mrs Linda Hustler Classroom Teacher
Mr Luke Whatmough Classroom Teacher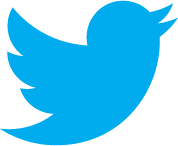 @EggarsMaths
---
Introduction to the Department:
In the Mathematics Department, we aim to help students build up their confidence in using mathematical skills and processes and applying them in problem solving. We endeavour to help make the transition from Primary to Secondary school as smooth as possible, and this year will be using KS2 SATS results and our own baseline line assessment in the first few weeks to set the students.
Key Stage 3 Information:
In Key Stage 3, we are constantly developing our curriculum to make it dynamic and relevant to the students we teach. Our KS3 curriculum has five main strands; Number, Algebra, Ratio and Proportion, Geometry, and Statistics. We are also introducing regular half termly investigations which will stimulate, extend and challenge students. These will also encourage students to embrace the different facets of the Eggar's Learner.
Key mathematical skills are tested regularly while formal assessments take place every term.
Regular reflection on progress and effort is made both in lessons and following informal learning checks and formal assessments.
Homework is set on a weekly basis using a mixture of different topics and four different levels of questions.
The standard of presentation expected of an Eggar's student in Maths is extremely high
Key Stage 3 Overview: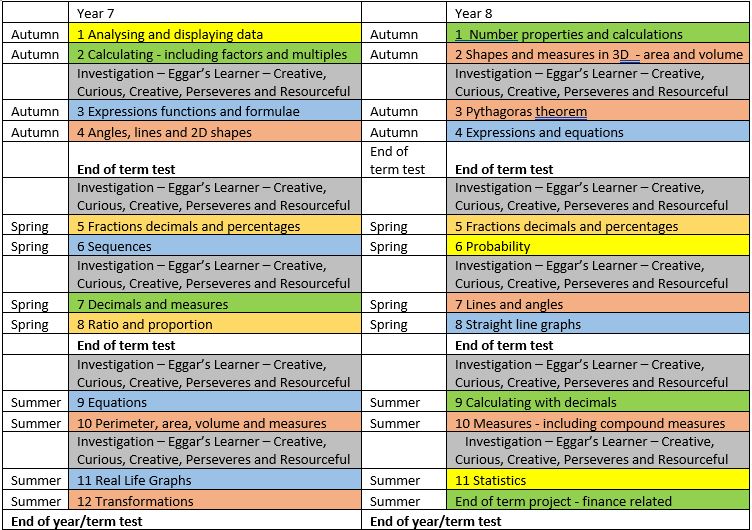 Assessment in Key Stage 3 Maths
In KS3, students will be formally assessed termly. Their attainment will be measured using bands called "emerging", "developing", "secure" and "excelling". (There will be other smaller assessments during each term).
KS2 results and an initial assessment at the start of Year 7 will determine in which band your son/daughter will start KS3.
Each band has many skills that will need to be developed over KS3. There are five different strands of Mathematics studied, linked to the National Curriculum Programmes of Study for Mathematics at KS3. The five strands are: Number, Algebra, Ratio and Proportion, Geometry and Measures, and Statistics. The details below show one set of skills within each of four of the strands: Number, Algebra, Geometry and Measures and Statistics.
Key Stage 3 assessment criteria can be found at the bottom of this page.
In order to move to the next band, a student must achieve the criteria for the band they are in and some of the criteria from the next band. A pupil who does not consistently achieve all or most of the required skills could be moved down a band. Hence, as parent you will be able to check your son/daughter's progress in Mathematics.
Key Stage 4 Information:
At Key Stage 4, students enter one of two pathways, Higher or Foundation, based on their potential and their endeavour throughout Key Stage 3. There is a considerable overlap in the content of these 2 pathways. This allows plenty of time for students to master the skills needed before a final decision on which tier they will sit for the exam in year 11 has to be made.
Homework is set on a weekly basis.
Assessment in Key Stage 4 Maths:
In KS4, students will be formally assessed once a term. Their attainment will be measured against the exam board GCSE criteria and students will be graded in line with GCSE grade boundaries. (There will be other smaller assessments during each term).
KS3 results and ongoing assessment will determine which tier of assessment band your son/daughter will start on for KS4. This tier may change as students progress KS4 depending on their individual progress.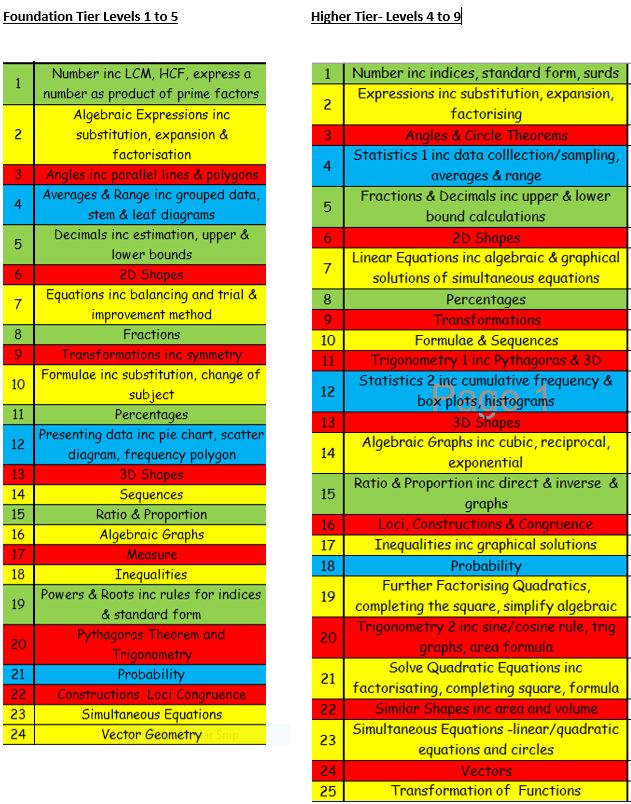 GCSE Statistics
We are now offering GCSE Statistics as a GCSE option subject to our Year 9 students, having run it as an after-school club for a couple of years.
This qualification develops skills that students will use in other subjects such as Science and Geography. It also reinforces techniques needed for GCSE Maths as well as supporting progression to A Level.
Level 2 Certificate in Further Mathematics
We offered this to a small number of students last year, with very good results. The GCSE equivalent course is designed to stretch and challenge high achieving students who are aiming for the top grades at GCSE. We are planning to offer this again as it is excellent preparation for A Level.
Examination Boards used:
We use the Edexcel exam board for Mathematics and the AQA Exam Board for Further Mathematics.
Qualification to be obtained:
GCSE Mathematics
Other Information
Students from all years take part in the national challenge run annually by the UK Mathematics Trust and we also send students to local Maths challenges, competing against other school.
We also run Maths days for Year 6 students and Year 7. For the first time last year, we also ran a Pi day in March.