We believe that all our students are able and talented. The Eggar's Experience is a ten-point challenge designed to give our students the opportunity to show and develop their abilities, talents and skills, complementing their academic work. It gives them the chance to record the significant moments in their lives, both inside and outside school. We believe it is an excellent opportunity for all students to broaden their experiences, learn new and important skills and grow as a person.
The Eggar's Experience e-portolio is based in the cloud on Office 365. It allows students to access and personalise their portfolio with their own personal login, updating it as they attempt to complete the challenges. Take a look at the template in pdf format below.
In particular we would like to highlight challenge 4, Join the Club. We believe this has the potential to enrich the experience of all our students through extra-curricular activities. Staff run after school clubs eleven times a year across a wide variety of topics - from photography to cribbage club, from beginners Spanish to girls' rugby - developing our students' skills to be an active citizen in today's world.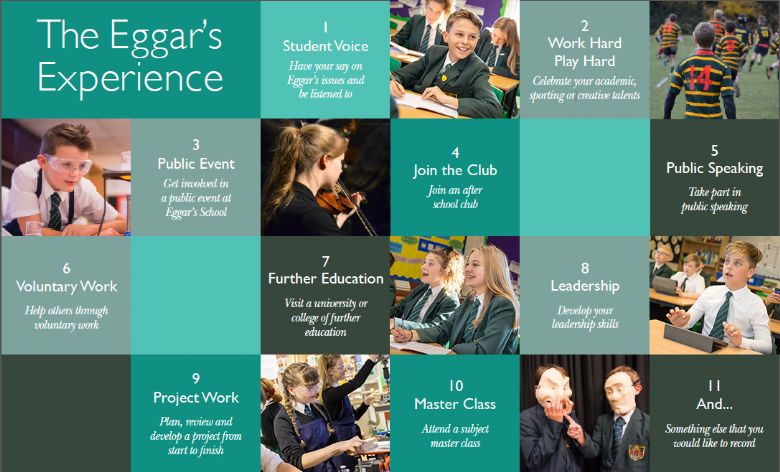 @eggars

URGENT APPEAL to those living in the Alton area and the local business community for used laptops that can be reconditioned and used for home schooling. Full press release here: https://t.co/ITvdOLubsZ https://t.co/Mq826wMzGq 2:21 PM - 12 Feb 2021

@eggars

We are aware of sky broadband issues this morning affecting Alton and understand if this causes your child to not join home learning today. Please email us at enquiries@eggars.hants.sch.uk with the title 'Internet issues' to let us know you will not be attending lessons 11:50 AM - 08 Feb 2021

@eggars

Mr Bufton: Cycling for Dementia. Our Year 8 Progress Leader is aiming to raise £500 for the Dementia Trust by cycling an amazing 250 miles in January! https://t.co/ieT0hXF3KF Any contribution would be very welcome. #HopefullyNoPunctures #KeepWarm https://t.co/3gqOTHvclB 4:55 PM - 08 Jan 2021
Follow Us