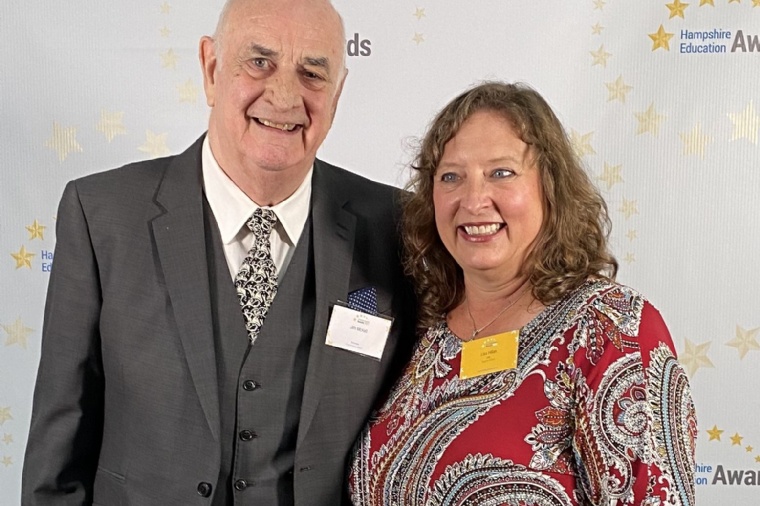 Jim McKell ... one of the best!
The Hampshire Education Awards were established as a means of recognising the contribution of staff and volunteers within Hampshire's education system. Chair of Governors Lisa Hillan nominated Jim McKell for the Governance Award. Jim has served as an Eggar's governor for nearly twenty years, and he was shortlisted with three other nominees. A big honour in itself!
The Awards ceremony was held at Ashburton Hall in Winchester on October 7. It was a celebration of the service and commitment of 46 nominees in 14 categories, ranging from Apprentice Award to Outstanding Contribution to Education. Musician-turned-vicar Rev Richard Coles presented the awards.
The Governance Award recipient was Sally Hibbert, Chair of Governors at Binsted C of E Primary School. The other two short-listed nominees were Nikki Brigg from Orchard Junior School and John Murrant from Purbrook Junior School. Together, the four short-listed nominees have 110 years of school governance experience!
We congratulate Jim for being selected as one of the finalists, and celebrate his dedicated service as an Eggar's School governor.
Lisa Hillan, Chair of Governors said of Jim:
"We jokingly call Jim "Mr Alton". He knows everyone and everyone knows him. It is difficult to imagine a more influential person to have on our governing body. A consummate professional, Jim is friendly, personable and engaging. He comes across as a kind and caring grandfatherly figure, whom students, parents, staff, fellow governors, visitors, dignitaries, Ofsted inspectors and everyone respects. With energy and enthusiasm, Jim is generous with his time and talent."