At Eggar's we are committed to nurturing the abilities of all our students, both inside and outside of the classroom. Our Aspire Programme will build on the work we have started and will continue to provide varied and inspiring opportunities for all students to get involved in.
Within the classroom, our broad and inclusive curriculum is designed specifically with challenge in mind, allowing for all students to reach their full potential. We work with the National Association for Challenge in Education (NACE) to ensure we are up to date on the latest methods to aid the progression of our students.
We identify exceptional students across all curriculum areas to make sure they are aware of all subject-specific provision they can benefit from through our Aspire Programme. They may also be asked to participate in student voice and be part of mentoring programmes as they move further up the school.
Aspire works in collaboration Eggar's Experience to provide a variety of extracurricular activities, including, but not limited to:
· Arkwright Scholarship Programme- Eggar's School
· GCSE Statistics- Eggar's School
· Mock Trial Competition- Young Citizens
· Monthly Lecture Club- Eggar's School
· Guest Speaker Lectures- Eggar's School
· Rotary Club Youth Speaks Competition- UCA, Farnham
· Scholars Programme- The Brilliant Club, Various Universities
· Sports Leaders Qualifications- Eggar's School
· Language Leaders- Eggar's School
· STEM Science trip- Qinetiq, Farnborough
· Subject Master Classes-Alton College
· Subject Master Classes-Farnham College
· UK Maths Challenge
· Entry to high level sporting events
We are keen to develop our programme of guest speakers. If you feel you have any experience to share, or know someone who does, please check your email for the MS Form sent to parents/carers.
For more information or to enquire about guest speaker opportunities, please get in touch with Miss O. Vale via enquiries@eggars.hants.sch.uk stating Aspire in the subject line.
The Eggar's EXPERIENCE
The Eggar's Experience encourages all our students to participate in at least ten key activities during their five years at Eggar's School. These activities are designed to equip them with a range of key life skills to become more rounded and skilled individuals and therefore better equipped for further education and employment.
Eggar's students are expected to keep a digital record of the key challenges they are involved in. This record of achievement is regularly reviewed.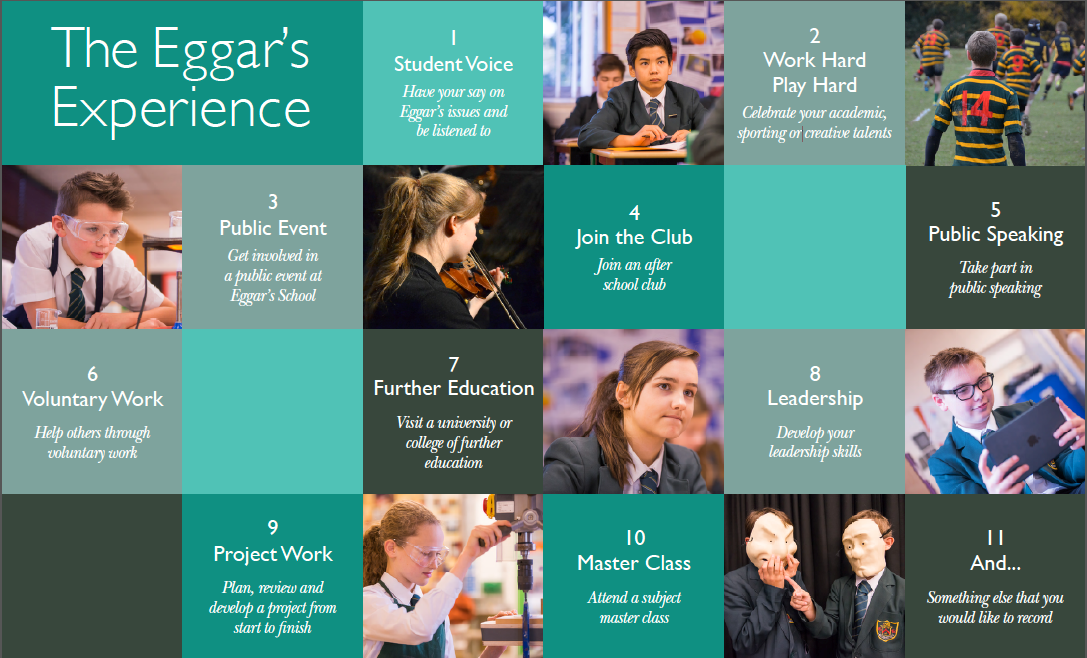 Eggar's School continues to strive to further the provision for all our students to provide them with the skills for further education and employment.