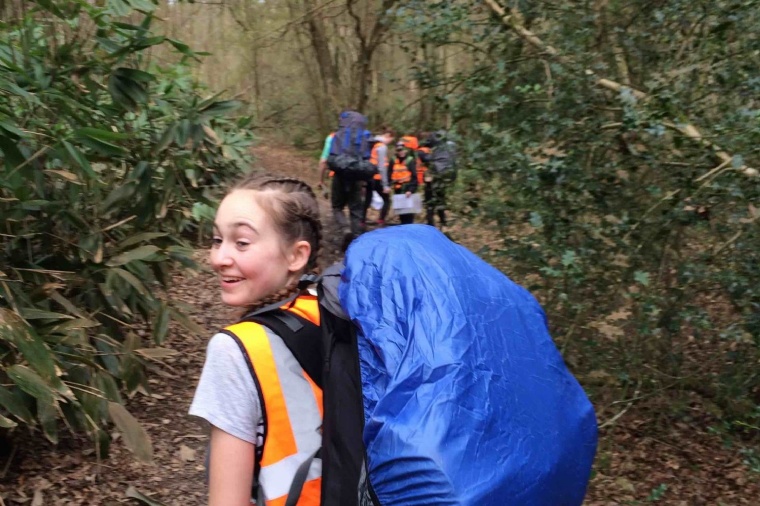 A weekend of excellent navigation skills and great team work
The first weekend in April saw the Practice Expedition for our Year 10's Duke of Edinburgh's Bronze Award. The group was split into 2 teams: Team 1 consisted of Dan Bates, Tom Cheung, Oskar Klimek and Zak Markey while Team 2 was made up of Mia Carter, Hannah Cooke, Nell Gibbs, Joe Lancaster, Ciaran Marshal, Anya Nolan-King and Nelle Pratt.
It was a fantastic experience with ideal walking weather and stunning views of the very beautiful countryside between Haslemere in Surrey and Woolbeding Common in West Sussex.
However, it was also challenging with some arduous terrain to deal with and many crisscrossing paths. Both teams improved tremendously and showed some excellent navigation skills with Team 1 making a significant improvement over the two days.
Students also had to demonstrate good camp-craft and Team 2 showed the best skills we have seen so far. Delicious "cordon bleu cuisine" may not have been on the menu, however some tasty(ish) dishes were served up and kept energy levels high.
Team spirit, camaraderie, and above all the ability to "enjoy the moment" was evident in both teams, and when the going got tough (and it did), they were able to keep going and complete their expedition.
Congratulations to both the teams and a huge thank you to Miss Balch and Mr Cumner who were instrumental in encouraging the teams to achieve all that they did.
Mr Foley