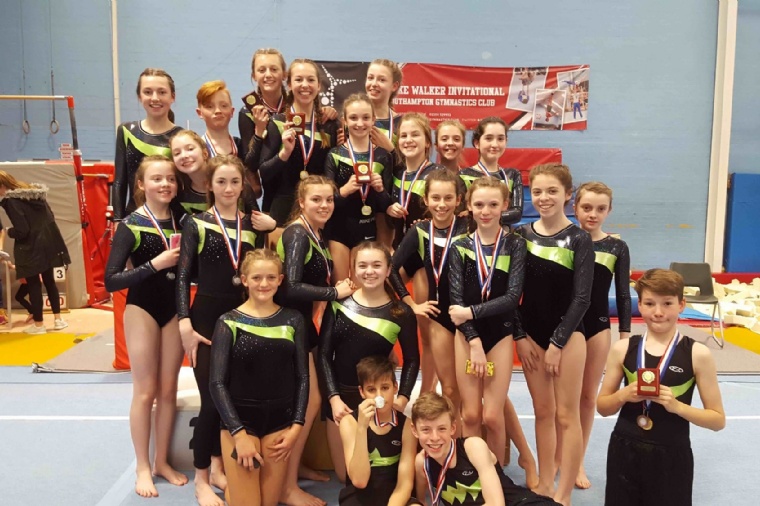 22 medals for Eggar's students from the Southern Region event
25 of our gymnasts competed in the Southern Region Acrobatic and Tumbling event in Southampton on April 2nd. All the students had been working on their routines for months and were very excited about competing. The whole group performed incredibly well and were rewarded with 22 medals (6 Gold, 11 Silver & 5 Bronze).
In the pairs competition, Abi Green and Amy Klaire performed their routine beautifully and came away with gold in the U14 group, beating over 20 other competitors. In the mixed pairs, we continued our strong performance and came 1st, 2nd and 3rd with Gemma Stokes and Henry Loomis taking the Gold. They will join Amy, Abi and tumblers, Poppy Rear and Lourdes Pellicano, representing the region at the National Finals in Stoke-on-Trent in May.
"We're really excited about going to nationals and it is going to be so much fun. We are really excited for the whole trip and it is always an amazing experience to compete at a national level competition. We just can't wait to perform". – Amy Klaire and Abi Green (Gold, U14 National girls pairs).
Our U14 sixes gave a personal best performance and came away with silver. They were delighted especially as for most if the group, this was their first ever gymnastics competition.
This will be the fourth year in a row that Eggar's have qualified for the National Finals which is a fantastic achievement. All the gymnasts should be incredibly proud of their hard work leading up to the competition as well as their performances on the day.
"It was a very enjoyable experience and there were loads of other schools involved. Really cool being part of the team and representing our school" – Josh Young (Gold, Regional U14 mixed pairs).
"Gymnastics is really fun at Eggar's we have all worked really hard for the competition and also on our individual skills. Everyone from all the year groups gets on really well and on competition day it's amazing to feel part of such a big team". – Poppy Rear (Qualified for National U14 Tumbling