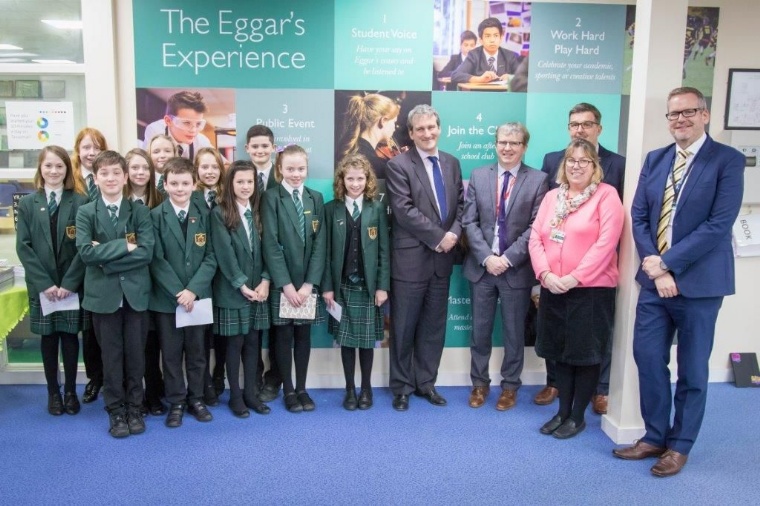 350 mock interviews, a Careers Fair and Damian Hinds
Working in collaboration with Alton College, Eggar's fully embraced National Careers Week last week at the school with over 350 mock interviews, a Careers Fair, a presentation on training and apprenticeship opportunities and a Q&A session with Damian Hinds, local MP and Minister of State for Employment.
This annual event brings together students, local employers and advisers through careers activities. It is the perfect platform to advise and inspire the next generation as they enter the world of work.
350+ Interviews: Throughout the week there were over 200 mock interviews for Year 8 students and 150 interviews for Year 10s. The interviewers came from a myriad of backgrounds: from sales and finance managers to small businesses and district councilors. There were representatives from local colleges, school governing boards and STEM Ambassadors (from Winchester Science Centre).
Some students were anxious about going into these interviews but all came out saying what a useful experience it had been and how helpful it will be when they go for College or job interviews in the future.
One Year 8 student said: "It was really good. The interviewer really helped me focus on my strengths and weaknesses"
Bordon Future Skills Centre: Bordon Future Skills Centre started the week with a really useful presentation on the technical training opportunities they will be offering when the Centre opens in September. With its emphasis on the construction industry, students could be developing skills for the local area in brickwork, carpentry, plumbing or electrics in the future.
Careers Fair: There were 17 industry / trade tables for the Careers Fair on Tuesday afternoon. Students could talk to many local companies, army and navy careers representatives, local retail managers, solicitors and hairdressing companies, plus local colleges.
Minister of State for Employment: Although disappointed not to have been able to come to the school earlier during the week's events, Damien Hinds, MP, conducted a really useful and informative "Question & Answer" session at the school on Friday, making a terrific finish to the week.