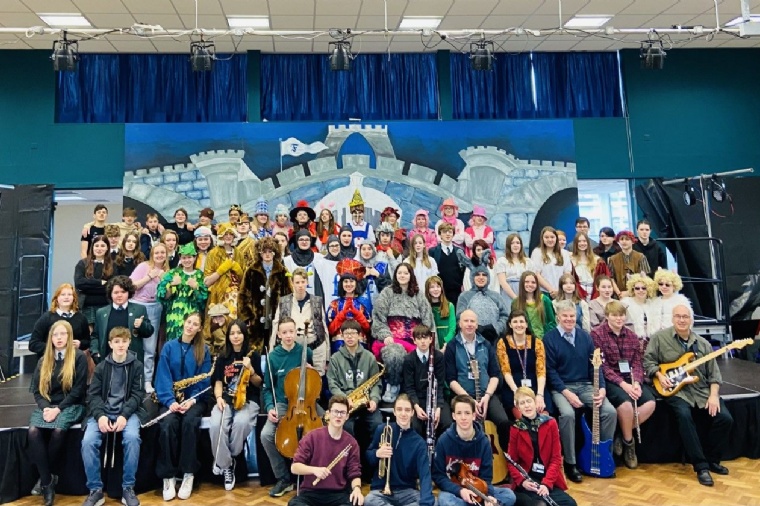 Eggar's School performed 'Shrek The Musical' over three evenings with Friday's final night selling out!
Over 84 students, 18 staff members and 2 ex Eggar's students have been working hard to perfect 25 musical numbers, 19 scenes of dialogue and at least 20 choreographed dances.
Mrs Jackie Clarke Director said, 'As the Curriculum Leader of Drama, it is my job to pull this musical all together, working closely with the choreographer and musical director, but the school musical is very much that. The whole school gets involved. So many students and staff have helped with painting the set, gathering props, backstage preparations and helping with front of house. I love how students who aren't involved in the musical ask, as they pass in the corridor, how the musical is going, showing their interest and support.'
The show has received raving reviews and the Musical Director Mr Matthew Farris said,
'Shrek has proved to be a musical tour de force and the band have been tirelessly rehearsing for many hours to learn so many technically demanding songs. We have found out that there is no 'easy part' in this show and, whilst testing many of the band to their limits, we have had a great deal of fun putting together the music for tonight's performance. Finally, I would like to extend special thanks to the teachers and ex-students for their help in making this band possible.'
Eggar's also invited local primary schools to watch rehearsals and Rowledge Primary School children sent thank you letters in. The children had drawn pictures and written about their favourite parts of the show. It's fair to say that the show was entertaining for all ages and was compared to West End performances.