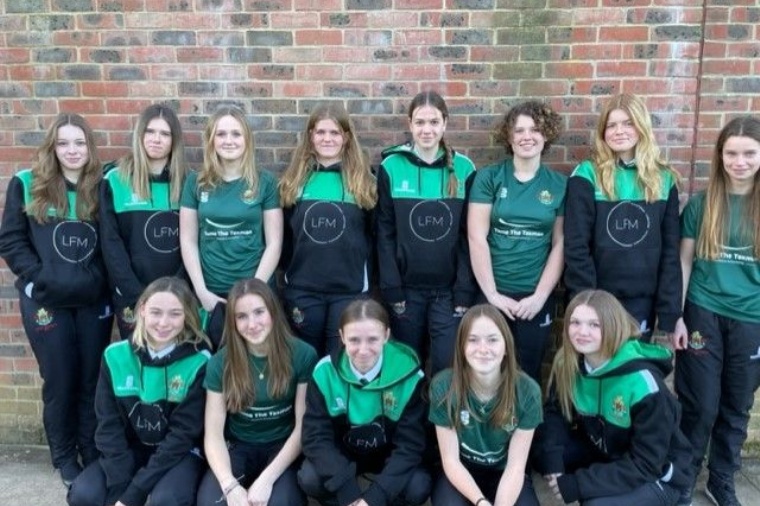 Eggar's U16 Girls' Hockey Team Head To The National Finals
Eggar's U16 Girls' team are the only state school heading to the National Hockey Finals on Monday. They were the only state school in the competition this year at both rounds in the regional finals and so are the strongest state school for indoor hockey in the south of England and potentially beyond. They will almost certainly be the only state school at the outdoor nationals in February where the strongest 8 schools in the country compete to be crowned National Champions! Their achievements this year are phenomenal and they are easily the highest achieving team we have ever had at the school.
The girls are heading to Nottingham with their coach Miss Bilsland in brand-new kit kindly sponsored by two local firms, LFM Chartered Accountants and Tame the Taxman Ltd.
The girls have been training hard the last couple of weeks in preparation for the National finals and are very excited to represent the school, Hampshire and the state school sector.
A few wise words from Mr Sullivan before he left for Ghana encouraged the girls to give it their best effort and enjoy the whole experience.
Wishing the team huge luck and we can't wait to find out how they get on.
Further details about the event can be found here:
https://www.englandhockey.co.uk/media/news/england-hockey-notts-sports-schools-championships-2023
@eggars

We hope everyone has a happy, active Easter. Looking forward to summer activities on our return https://t.co/UM4kOigExA 6:57 AM - 01 Apr 2023

@eggars

Wishing everyone a relaxing Easter break and please read our latest newsletter. https://t.co/M6P02Ly3ch https://t.co/4EwzE5sGDt 1:02 PM - 31 Mar 2023

@eggars

End of term and our Refectory have Hot Cross Buns on offer for the students and staff. The team do an amazing job keeping everyone fed and happy at school. #easter #endofterm #WeAreEggars https://t.co/mv568iwwdw 9:25 AM - 31 Mar 2023
Follow Us