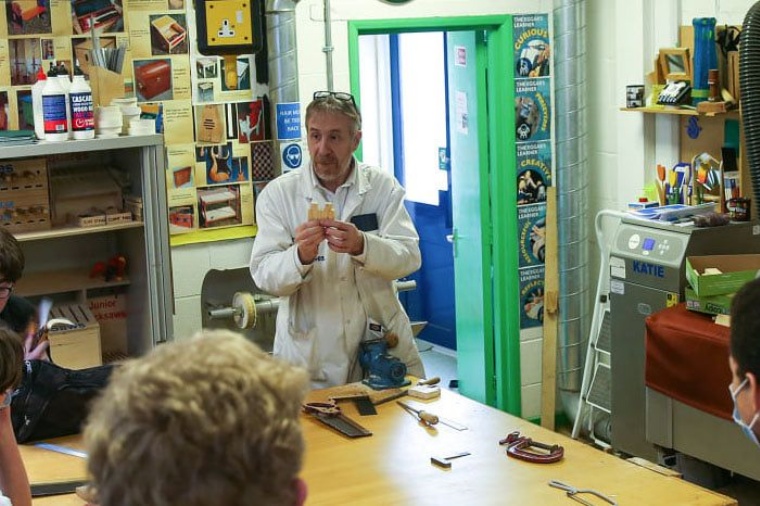 Neil Waite, Head of Design & Technology at Eggar's for the last 16 years, explains why he feels just as passionate about supporting young people into engineering as he did at the start of his career.
The Passionate Engineer

Established over 30 years ago, the Arkwright Engineering Scholarships are the most esteemed scholarships of their kind in the UK. These sought-after scholarships support students as they follow a career into Engineering. They offer substantial financial support as well as linking students with some of the country's best university engineering programmes and industry leaders. The application process is rigorous with only a tiny number of students nationally being successful.
Each year, Eggar's Design & Technology Department promote and encourage students to apply for one of these prestigious scholarships. In 2023, the D&T Department are supporting four keen young engineers - two boys and two girls – with their Arkwright applications, the first step in their aspiration to become part of engineering's new generation.
Neil Waite, Head of Design & Technology at Eggar's for the last 16 years, explains why he feels just as passionate about supporting young people into engineering as he did at the start of his career.
'Throughout my career I've been lucky to have people who have given me the support and the confidence to learn new skills. Design & Technology covers a wide range of disciplines including carpentry, engineering, plastics technology, electronics, CAD/CAM, technical drawing and graphic design … and I love it all!
I started teaching Design & Technology in 1989 and can honestly say I feel just as passionate about supporting young people through their time in the workshop as I always have. The development of new technologies, such as laser cutting and programmable chips in electronics, has always kept things fresh and exciting. There's nothing more satisfying than seeing a student's pride as they learn new skills to design and make products.
I've never been particularly 'academic' and so I can relate to students who find that aspect of school challenging. In 1985, I went to Portsmouth Polytechnic to do a BTEC HND in Mechanical Engineering. I loved the practical elements of the course: learning how to use the engineering equipment including centre lathes, milling machines, welders and grinders. For my 18th birthday I asked for a MIG welder and taught myself how to weld. I would practise on my mates' cars and motorbikes, saving them money while developing my welding skills.
After completing my HND, I worked as a production engineer for a manufacturing company in Portsmouth. They made electromechanical devices for cookers and I was in charge of the electronics section which made induction hobs for cookers. It was an exciting time in the world of electronics with the introduction of surface mount technology, pick and place machines and flow soldering.
After two years working as an engineer, I decided to leave and train to be a Design & Technology teacher. During the early years of my teaching at Court Moor School I was lucky to be apprenticed to an inspirational Head of Department who was a brilliant engineer and an outstanding teacher. He was also one of the kindest and supportive bosses you could ever wish for. It wasn't long before I was running a 'Young Engineers' club, designing and welding pedal cars for an annual race competition at RAF Odiham. It was at this time, in my early 20s, that I became interested in woodwork and spent many hours developing my carpentry skills and learning to wood turn.
I then moved to The Mountbatten School where I continued to focus on teaching woodwork and I also took over the electronics GCSE. The department had strong links with Siemens Electronics in Romsey and I enjoyed supporting students designing innovative electronic products for their annual electronics competition. I was proud that many of my students went on to start careers at Romsey IMB and Siemens.
In 2005 I was asked by the County Advisor for D&T to become a Lead Teacher in order to support teachers in Hampshire develop their CAD/CAM skills. I did this through running twilight courses and writing magazine articles; although I enjoy teaching adults, my passion remains teaching young people because of the buzz they bring to the workshop and the thrill they experience when they master a new skill.
As I enter the latter stages of my career, I still feel compelled to help and support young people in my classroom, in the same way that I was supported throughout the early stages of my career. Engineering is an incredibly innovative profession, but I think you are also constantly aware that you are 'standing on the shoulders of giants' and you want to play your part in giving the next generation the leg-up they need to achieve their aspirations.
And, even though I'll be a little greyer, I know the very last lesson in my teaching career, when it comes, will be just as exciting as my first.'
@eggars

We hope everyone has a happy, active Easter. Looking forward to summer activities on our return https://t.co/UM4kOigExA 6:57 AM - 01 Apr 2023

@eggars

Wishing everyone a relaxing Easter break and please read our latest newsletter. https://t.co/M6P02Ly3ch https://t.co/4EwzE5sGDt 1:02 PM - 31 Mar 2023

@eggars

End of term and our Refectory have Hot Cross Buns on offer for the students and staff. The team do an amazing job keeping everyone fed and happy at school. #easter #endofterm #WeAreEggars https://t.co/mv568iwwdw 9:25 AM - 31 Mar 2023
Follow Us