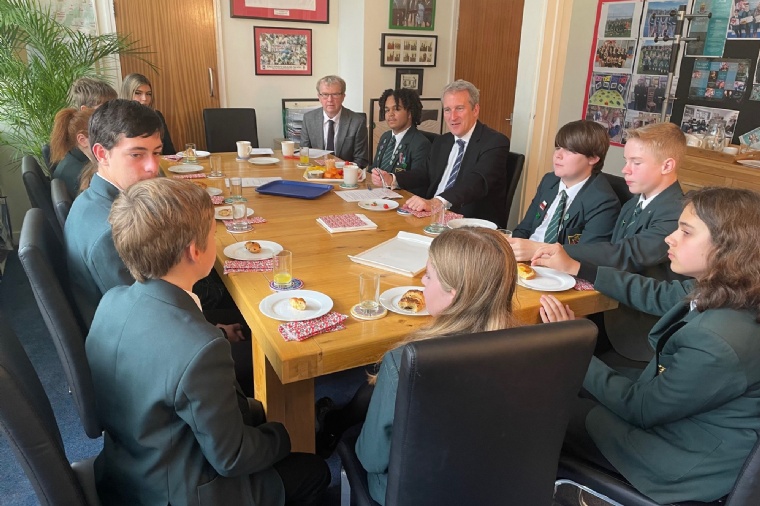 MP listens to students' life online ...
Damian Hinds, MP for East Hampshire, spent Friday morning with a student panel, representative of all year groups in the school. Mr Hinds is heavily involved in getting the Online Safety Bill through Parliament. It is an internationally-leading piece of legislation which seeks to tackle some of the many issues around online safety and the place of social media in the lives of young people. He wanted to talk directly to local students, keen to hear their thoughts on what could be done to improve life online, and help him represent East Hampshire's young people in Parliament.
Our students talked to the MP on many topics, including their own online usage and what content they view, from websites to social media and gaming. They chatted about some of the rules of accessing online content and put forward their own ideas on what the Bill should include.
It was an incredibly engaging hour with the MP who came away with a wealth of really useful information. Our students were outstanding and should be incredibly proud of their contribution.
Congratulations to:
• Ava and Robbie (Year 11)
• Dan and Olivia (Year 10)
​​​​​​​• Zack and Pheobe (Year 9)
​​​​​​​• Vladyslav, Charlie and DeVilliers (Year 8)
​​​​​​​• Lilly and Elias (Year 7)
@eggars

Problem of the week! Please do not comment with the solution so other people can work it out too. Instead, like this post if you think you have the correct answer. The solution will be posted in the comments on Thursday at 4pm! Best of luck #UKMT #Problem #Maths https://t.co/p7WvGqGFuc 2:30 PM - 07 Feb 2023

@eggars

No one should have to face mental health problems on their own. @Place2Be are proud to partner with @GiveUsAShout to provide 24/7 support in the UK. If you're struggling, text CONNECT to 85258. Anytime, anywhere. #ChildrensMentalHealthWeek https://t.co/vuxqG2QDak 11:16 AM - 07 Feb 2023

@eggars

https://t.co/rrqJ2Hpi0e https://t.co/pFkiOYiIrK 11:14 AM - 07 Feb 2023
Follow Us