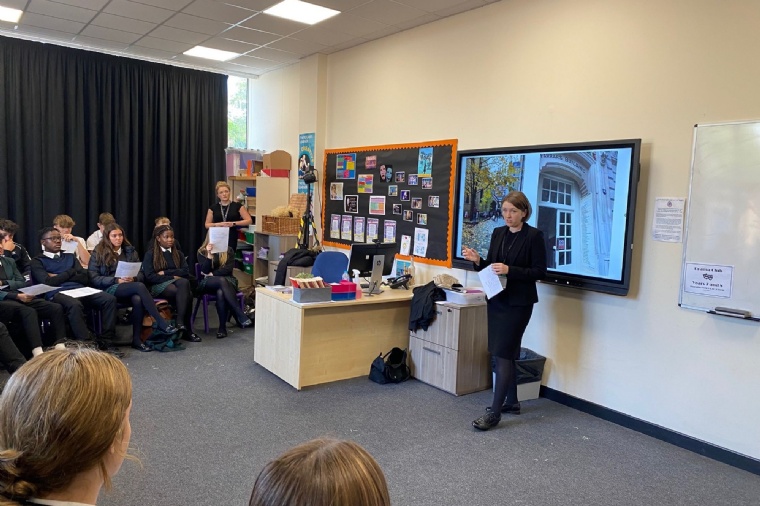 Barrister Laura Fitzgibbon talks to current students...
It is always lovely to see former students return to Eggar's. Laura Fitzgibbon left school in 2010, going on to study law at Durham University. She is now a barrister in Chambers at Farrar's Building, London; just a couple of minutes from the Royal Courts of Justice. She appears in court most days, working particularly on personal injury and clinical negligence.
Laura came back to Eggar's this week to talk to some of our current students about how she became a successful barrister. There was a lively Q&A session as she described her legal career and the pressures of being in Chambers. It was great to see the reaction of her audience – seeing one of our own achieving so much and making them realise that it is possible for them to reach the same heights.
Eggar's School Alumni Association
We are really keen to keep everyone in touch, to share experiences, to inspire and motivate our current student body and to highlight how Eggar's shapes its students' future lives. If you went to Eggar's, please join our Alumni Association. We'd love to hear from you!
Sign up here: https://www.futurefirsthub.org.uk/register/eggarsschool
@eggars

Problem of the week! Please do not comment with the solution so other people can work it out too. Instead, like this post if you think you have the correct answer. The solution will be posted in the comments on Thursday at 4pm! Best of luck #UKMT #Problem #Maths https://t.co/p7WvGqGFuc 2:30 PM - 07 Feb 2023

@eggars

No one should have to face mental health problems on their own. @Place2Be are proud to partner with @GiveUsAShout to provide 24/7 support in the UK. If you're struggling, text CONNECT to 85258. Anytime, anywhere. #ChildrensMentalHealthWeek https://t.co/vuxqG2QDak 11:16 AM - 07 Feb 2023

@eggars

https://t.co/rrqJ2Hpi0e https://t.co/pFkiOYiIrK 11:14 AM - 07 Feb 2023
Follow Us