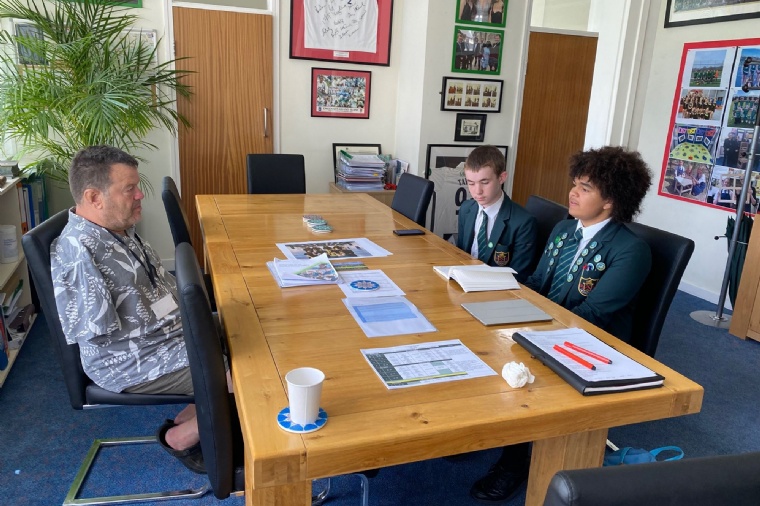 This month, Zack and Jonathan interviewed Tom Yendell about TEABAG, his role as one of the Trustees and the amazing work the Charity does. This is what they found out!
Why TEABAG?
When I was young, my mother volunteered for 'Save The Children'. After the birth of my first child, she suggested I support a child in Africa, or more precisely Ghana. For ten years, I sponsored a little girl via Save The Children until these individual sponsorships stopped. Fortunately, I met Roger Gilmore. He told me about his charity which helped children in Ghana; that it would cost £5 to sponsor a child there. All the money would go to the children as his charity did not require funds for running the scheme; he did it himself and for free. I gave him the money there and then.
I then became a trustee. Roger suggested a trip to Ghana to see how the money was helping them and that is exactly what I did in 2007. That is how I fell in love with Africa.
Working together with Eggar's to raise money has been fantastic. This year, Mr Sullivan and I visited Ghana and although all the money raised is making a difference, there is plenty more that needs to be done. One of our main aims is to renovate the kindergarten classrooms. This would enable young children to start on their educational journey which could lead to a better life.
What inspired Roger to start TEABAG?
He was inspired when he visited Ghana and realised, back then in 1999, kids in Ghana had to pay to go to school. Everybody over here gets free education as you know but back then, it cost £1.98 a year for a kid to go to school! He visited a fishing village that was very poor, and they couldn't even afford £1.98. He was really inspired by the fact that kids wanted to learn and today, a £20 donation pays for their uniform, their book bag and their shoes.
What are some goals for TEABAG?
One of our goals is for our vocational college to become an independent college to hopefully give us a bit more freedom in what we can teach and how we can teach it. For the last ten years, we've been given teachers by the government, and they haven't been great whereas the three teachers that we have got ourselves have been way better. So, if we are independent, we might get staff that who can make a massive difference to our children.
How much money have you raised in total for TEABAG?
I think with all the bits and pieces that we've had over the years, we have raised maybe about £250,000. Over the last 10 years it has mostly gone into buildings. We generally get quite big sums of money, like the donations we receive from Eggar's.
What's the next step for the future of TEABAG?
One of the main steps is to find some new trustees and some younger people. We also need to get some new people in to help with the fundraising and do things like you did, go on roller coasters, or sit in buckets of baked beans!