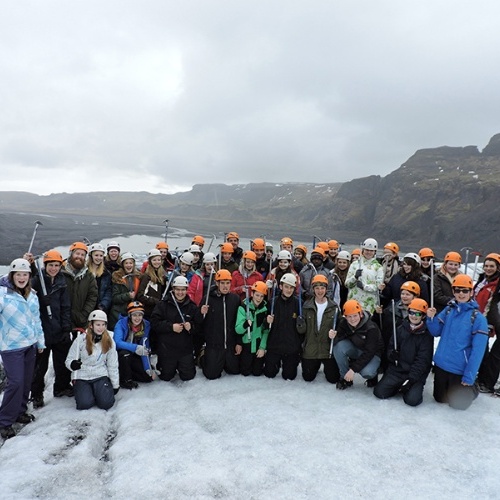 Eggar's students visit Iceland
On 15th April, the Eggar's Geography department was thrilled to take 40 students from Year 9 and 10 on an excursion to Iceland with the travel company Discover the World. The five day trip included many amazing moments, such as: soaking in the geothermal heated Blue Lagoon, exploring the Eyjafjallajokull volcanic eruption region and meeting some of the local residents effected, going for a glacier hike, walking behind waterfalls and into sea caves, tasting local foods, examining the tectonic rift valley, and seeing the power of nature at the hot exploding Geysir park and the mighty Gulfoss waterfall. Every day we shared what we were doing with everyone back home via Twitter and the blog. Prizes have been shared for the photo competition and awards, and all the detailed information and many photos are available via the GCSE blog www.geogdebens.wordpress.com .
Thank you to the staff team of Ms Debens, Mrs Lomas, Mr Reah, Mr Westwood, and Mr Cartwright for being fantastic and great sports all trip, and to the students for making it so enjoyable and memorable. Iceland 2016 will be coming soon so watch out!
Miss J Debens - Head of Geography