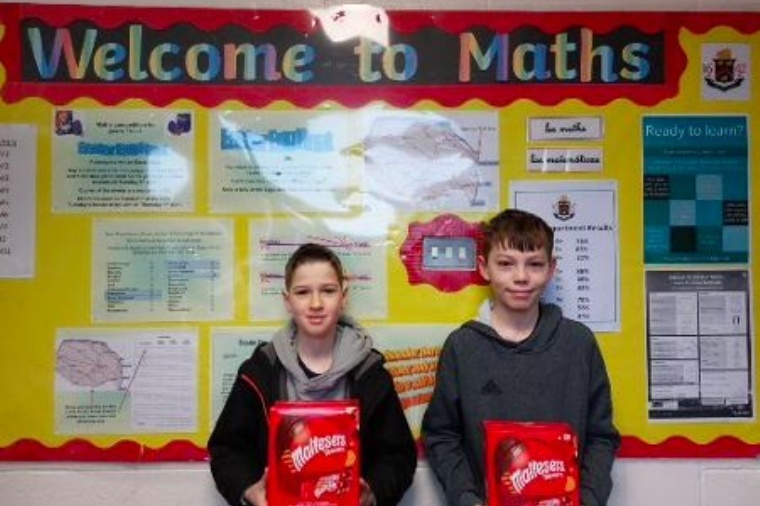 Egg-cellent maths challenge ...
In the final week of the Spring term, Years 7 and 8 took part in the Great Maths Easter Egg Competition. This was a maths optimisation problem, where students had to find a circular route around Norfolk of 250 miles or less, whilst collecting as many Easter Eggs as possible.
Many students were able to find a route, practising their maths at the same time! However the real challenge was to find a route and collect over 80 eggs.
The following students found a viable route with the most eggs in their maths class:
Year 7
Darcey C.
Alana M.
Ella V.
Evie H.
Gabriel S.
Andrea S.
Finn W.
Cam G.
Year 8
Flynn W.
Harry W.
Chloe P.
Eleanor T.
Isabella C.
Isaac E.
India S.
Grace H.
A few of the students found a route collecting 84 eggs but those finding a unique route, collecting an amazing 85 eggs were Finn W and Cam G in Year 7.
(Pictured above on the last day of term).
Congratulations!
@eggars

Come and see us! Take a Guided Tour around our amazing school and see what we mean when we say #WeAreEggars. We still have some spaces for the Tours in June. Book today: https://t.co/eSIlOtZxl2 6:54 PM - 23 May 2022

@eggars

Leadership. Teamwork. Fun! Last Friday Lt Commander Russ Haines from the Royal Navy led a fabulous training day for our student leadership team. Their mobile training apparatus was very similar to a large scale Meccano set! #WeAreEggars https://t.co/9so2z6EtpV https://t.co/IIcLQgmcpn 4:15 PM - 22 May 2022

@eggars

It's Fri-YAY and we're celebrating a brilliant Year 8 trampolinist! Abi not only won GOLD in the Regional Challenge Cup Qualifier for Double Mini Trampoline (Level 1) but she also qualified for the next round! Congratulations Abi! #NumberOne https://t.co/hCOfKitPxk 4:12 PM - 20 May 2022
Follow Us