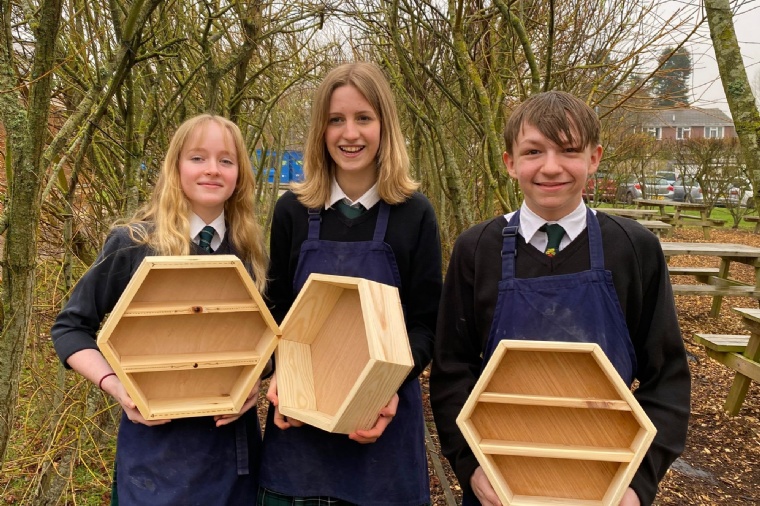 Catching the carpentry bug!
Four students have attended every session of the Eggar's Experience Furniture Making Club / Woodwork Club. Helena, Ella, Amber and Aaron were invited to our annual Weekend Woodwork Masterclass in Year 7, caught the carpentry bug and now in Year 10 they haven't looked back!
During this time, they have made a Rennie Mackintosh chair, a table, a jewellery box, a full size balloon basket for 'The Wizard of Oz' school production, and a dovetailed clock.
Pictured here are Helena, Ella and Aaron. They are now working on a hexagonal shelving system with pyrographic decoration. Incredible work!
They all have a really high skill level, using the tools with an impressive level of accuracy, and they have developed a lovely feel for the material. Mr Waite couldn't be more proud!
@eggars

We hope everyone has a happy, active Easter. Looking forward to summer activities on our return https://t.co/UM4kOigExA 6:57 AM - 01 Apr 2023

@eggars

Wishing everyone a relaxing Easter break and please read our latest newsletter. https://t.co/M6P02Ly3ch https://t.co/4EwzE5sGDt 1:02 PM - 31 Mar 2023

@eggars

End of term and our Refectory have Hot Cross Buns on offer for the students and staff. The team do an amazing job keeping everyone fed and happy at school. #easter #endofterm #WeAreEggars https://t.co/mv568iwwdw 9:25 AM - 31 Mar 2023
Follow Us