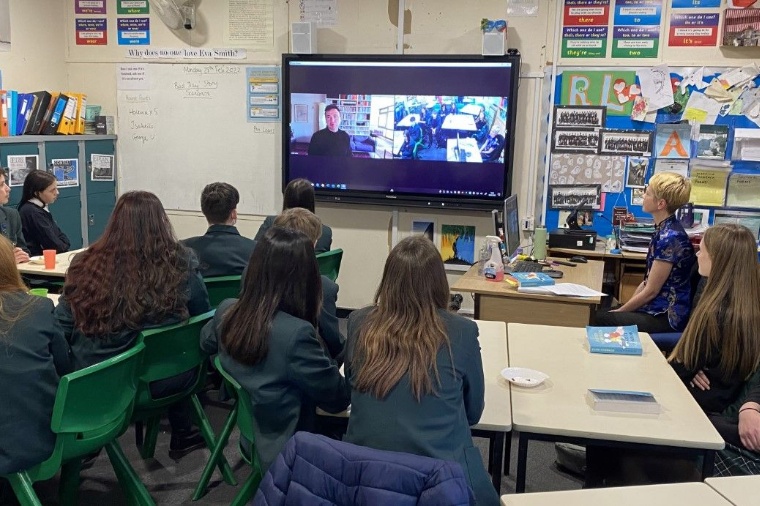 Novelist and screenwriter conducts Q&A ...
Our Year 10 students were captivated by novelist and screenwriter, David Nicholls who spoke for an hour about his latest novel, 'Sweet Sorrow', his inspirations and influences, and the intriguing process of converting a book into a film script.
David's novels 'Starter for Ten' and 'One Day' have already been made into successful movies, and he is currently working on the film script for 'Sweet Sorrow' As the title suggests, it is a modern day 'Romeo and Juliet', a play that our Year 10s have been studying recently.
Students posed questions to David about the inspiration for his characters, the structural choices he made in the novel, its themes and preoccupations, and his own reading interests.
It was an incredible insight into the art and craft of writing - thank you, David!
@eggars

Come and see us! Take a Guided Tour around our amazing school and see what we mean when we say #WeAreEggars. We still have some spaces for the Tours in June. Book today: https://t.co/eSIlOtZxl2 6:54 PM - 23 May 2022

@eggars

Leadership. Teamwork. Fun! Last Friday Lt Commander Russ Haines from the Royal Navy led a fabulous training day for our student leadership team. Their mobile training apparatus was very similar to a large scale Meccano set! #WeAreEggars https://t.co/9so2z6EtpV https://t.co/IIcLQgmcpn 4:15 PM - 22 May 2022

@eggars

It's Fri-YAY and we're celebrating a brilliant Year 8 trampolinist! Abi not only won GOLD in the Regional Challenge Cup Qualifier for Double Mini Trampoline (Level 1) but she also qualified for the next round! Congratulations Abi! #NumberOne https://t.co/hCOfKitPxk 4:12 PM - 20 May 2022
Follow Us