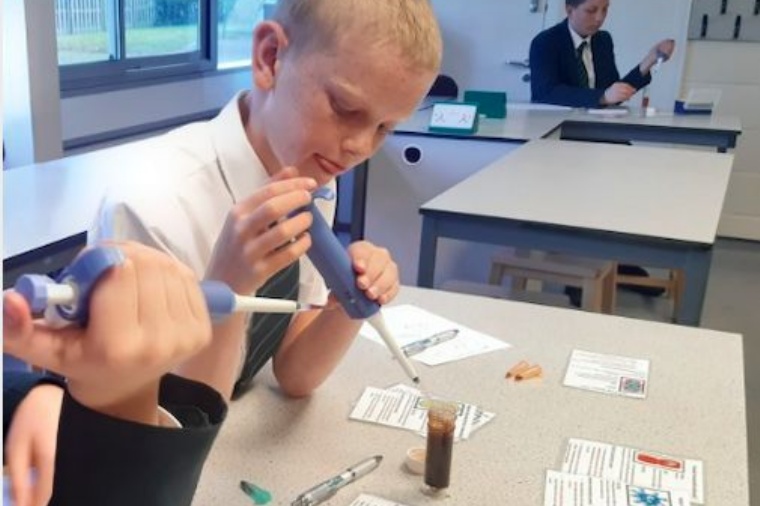 Learning what happens in a university lab ...
The Science Department was delighted to welcome three students from the University of Surrey last week. Katy, Katie and Henri ran a workshop for some of our budding scientists from Year 7 on microorganisms, monsters and infection control.
They played games to show how a virus spreads and learnt what precise techniques are used in a university lab. It was certainly very topical!
Our Year 7s were all really enthusiastic and engaged. Perhaps we have some future virologists amongst them!
A big thank you to Katy, Katie and Henri and the University of Surrey for their time in leading this lesson.
@eggars

Don't forget for Years 7, 8 and 9 (only), it's NON-UNIFORM DAY this Friday 27 May. Only £1.00 to take part via your SCOPAY account or cash on the day. All in aid of the brilliant TEABAG! #WeAreEggars https://t.co/Ye4N4smOV1 5:41 PM - 24 May 2022

@eggars

Come and see us! Take a Guided Tour around our amazing school and see what we mean when we say #WeAreEggars. We still have some spaces for the Tours in June. Book today: https://t.co/eSIlOtZxl2 6:54 PM - 23 May 2022

@eggars

Leadership. Teamwork. Fun! Last Friday Lt Commander Russ Haines from the Royal Navy led a fabulous training day for our student leadership team. Their mobile training apparatus was very similar to a large scale Meccano set! #WeAreEggars https://t.co/9so2z6EtpV https://t.co/IIcLQgmcpn 4:15 PM - 22 May 2022
Follow Us