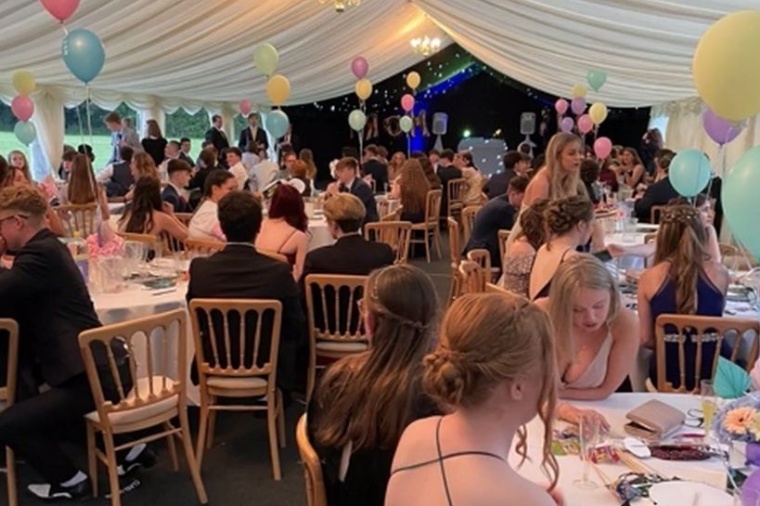 It was definitely a night to remember last Thursday for our Class of 2021. Over 130 Year 11 students arrived back at school to celebrate their time at Eggar's. Prom dresses and suits were the order of the day – and they all looked amazing!
Forty members of staff welcomed the students back, keen to make the Prom a truly memorable evening for this group who had such a disrupted last two years in secondary education. A beautifully decorated marquee was the alternative to a hotel venue and it proved a real success in the midst of Eggar's beautiful grounds on a dry summer's evening.
There were canapés and a Mocktail on arrival, followed by a BBQ which went down really well with all the guests. Then there was dancing, a fantastic DJ from the Ultimate Disco Company played some amazing music, finishing off the night with the classic 'Three Lions'!
Head Teacher Patrick Sullivan was delighted to host this priceless Prom this year.
He commented:
"It was lovely to see so many Year 11s back and able to enjoy an event together here. After such a difficult 18 months for everyone it was fantastic to see young people having such fun. I have never seen a group use the dance floor as much!
It is one of many events that has happened at Eggar's over the last few weeks. We have certainly pulled out all the stops this summer despite the restrictions that the pandemic has put on us. From on-site guided tours of the school for prospective students and their parents to a Reunion Tea for those who left in 2020; From a 'Murder Mystery' event at the Butt's Primary School to a day of baking for Year 5 students from Chawton; From a summer camp for Year 6 to ensure a smooth transition to Eggar's in September to auditioning and first rehearsals of our brand new production of 'The Wizard of Oz'. It has been a breathless few weeks!"