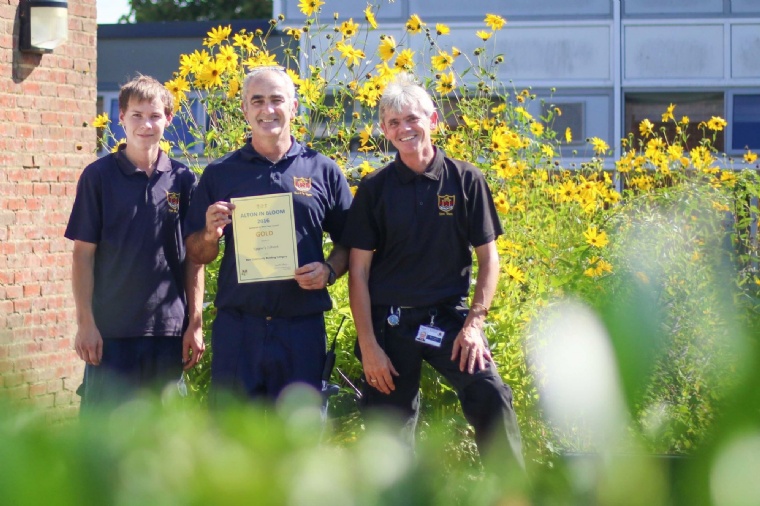 And the blooming winner is …
Eggar's School – gold in the annual Alton in Bloom competition.
Alton's 'In Bloom' competition is held to encourage Alton's businesses, schools and residents to make their gardens and sites look attractive. Eggar's School won gold in the best COMMUNITY building category. Ryan Heighes, site manager Dave Webb and Colin Leach were delighted with the award.
Dave commented: "It is the culmination of a lot of hard work but it is also so rewarding getting the site looking great all the year round."
@eggars

Problem of the week! Please do not comment with the solution so other people can work it out too. Instead, like this post if you think you have the correct answer. The solution will be posted in the comments on Thursday at 4pm! Best of luck #UKMT #Problem #Maths https://t.co/p7WvGqGFuc 2:30 PM - 07 Feb 2023

@eggars

No one should have to face mental health problems on their own. @Place2Be are proud to partner with @GiveUsAShout to provide 24/7 support in the UK. If you're struggling, text CONNECT to 85258. Anytime, anywhere. #ChildrensMentalHealthWeek https://t.co/vuxqG2QDak 11:16 AM - 07 Feb 2023

@eggars

https://t.co/rrqJ2Hpi0e https://t.co/pFkiOYiIrK 11:14 AM - 07 Feb 2023
Follow Us