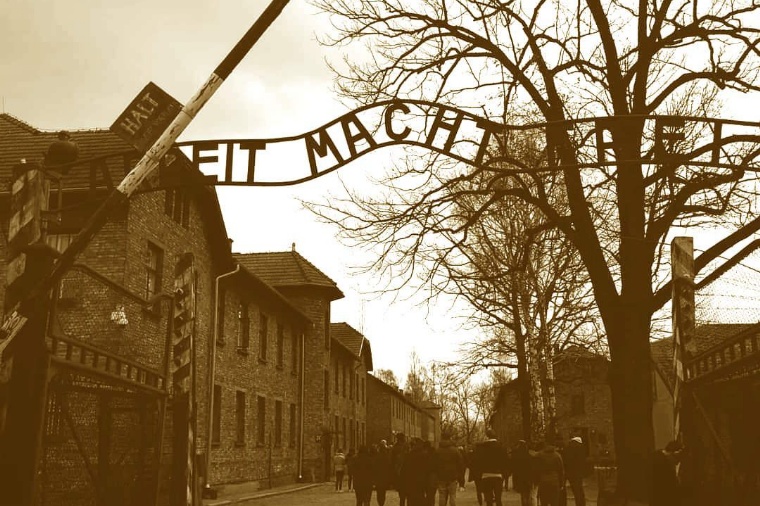 Be the light in the darkness...
As we mark Holocaust Memorial Day, Eggar's staff have been reflecting on different memorials to that horrific period which have had the greatest impact on them personally. We'd like to share with you the books, films, poems, and museum visits that have touched us the most.
VISITS
I went to the Natural History Museum and outside they had an exhibition of shoes from people who had died in the Holocaust. Walking amongst row after row of shoes that I knew people had worn just struck me as to the magnitude of this event and the diversity of its horror. A small pair of children's leather shoes made me cry without shame. Mr James

I visited the Imperial War Museum, quite a few years ago when they had a Holocaust exhibition. The most heart-wrenching moment for me was a trolley full of the shoes of men, women and children. To know that this enormous mass of leather belonged to people; to know that each pair was a person/child; to know that these had been taken, just like their dignity and life. It is a haunting image that will stay with me for my whole life. Mrs Evans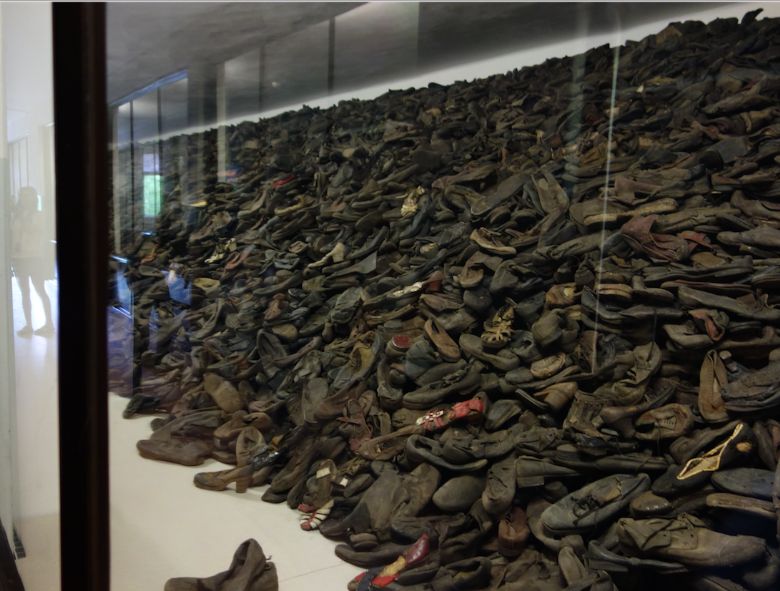 The Imperial War Museum exhibition: incredibly informative and very moving. Ms Ross
I visited Auschwitz where we had an amazing guide who really painted a vivid picture of the people who were killed there and the conditions they lived in. We can be desensitised sometimes to the stories but actually going there, seeing the actual shoes, clothes and hair piled up really brought home the very human horror of what happened. Miss Carter.
I've also had the privilege to visit Auschwitz-Birkenau on several occasions. To see where the atrocities happened first-hand is incredibly humbling and something I will never forget. I still remember walking through one of the very few surviving gas chambers for the first time. Ms Daish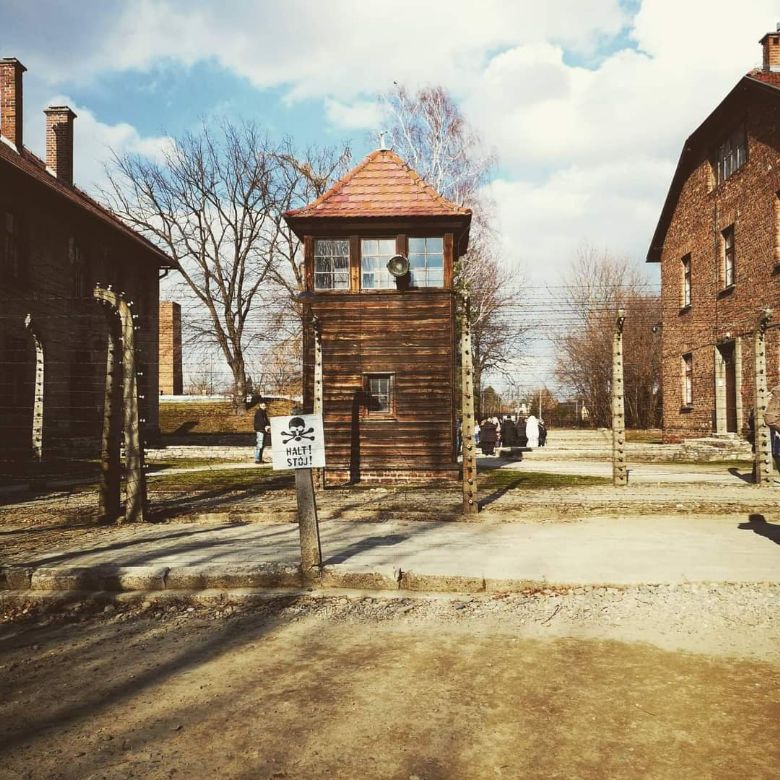 In 2018 I visited Auschwitz on a Holocaust Educational Trust trip with two students. It is so hard to comprehend what happened there and that it really did happen at all (it's so peaceful now). The thing that shocked me the most was seeing the torn down gas chambers because the fact that the Nazis tried to hide what they had done was really hard to see. Miss Drakard
A school trip with Year 10 to the Galicia Jewish Museum in Krakow in Poland, where a holocaust survivor spoke to us through a translator and explained her story. She was a Polish child who was experimented on by Dr Mengele - or 'The Angel of Death'. It was spine-tingling and a privilege to hear her story. Miss Hopkins
When we had holocaust survivor Henry Schachter in school, I had the privilege of transporting him from the station to school and in the car enjoyed conversation about his life when he first arrived in the UK and went to school in Newbury. He was such a caring man and took the time to enquire about all aspects of school life at Eggar's. His talk was brilliant too. Mrs Davey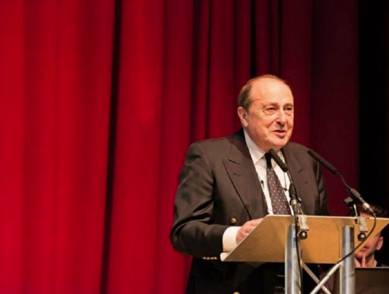 The Holocaust memorial in Berlin: The forest of stones stand like eerie monoliths and are a reminder to people of what happened. Mr Newland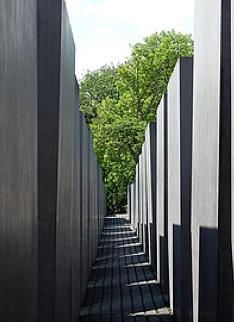 FILMS
For me, it's the film/book The Boy in the Striped Pyjamas that stands out the most and has had the most impact. It makes you think about the time at a more 'personal level' and never fails to make me cry! Miss Pratt and Miss Nicolau
My strongest impressions of the Holocaust are actually both French: they were both based on true stories of how Jewish people tried to escape discovery in occupied France as well as how people tried to help, but also those who gave them up to the authorities. I think as they were both mainly about children, they really had an impact on me. The film is called Au revoir les enfants by Louis Malle and the book is Un sac de billes by Joseph Joffo. Miss Vale
As a one off lesson on the Holocaust, Year 9 will be watching this documentary:
Finding my Family: Holocaust
It is an amazing story! Holocaust survivor Steven Frank takes his teenage granddaughter Maggie on a journey to learn about his experiences during the Holocaust. Mrs Daish
BOOKS
The Boy in the Striped Pyjamas- I know it's fiction but the concept of it is truly hard hitting. I know there is a film now which I have seen, but the book maintains the childlike innocence of Bruno which doesn't always come across in the film. Miss Aitken
Maus is a graphic novel which opened my eyes to atrocities I couldn't have imagined.
Mrs Hustler
The Man Who Broke Into Auschwitz is the extraordinary true story of a British soldier who marched willingly into the concentration camp known as Auschwitz III. In the summer of 1944, Denis Avey was being held in a POW labour camp, E715, near Auschwitz III. He had heard of the brutality meted out to the prisoners there and he was determined to witness what he could. He hatched a plan to swap places with a Jewish inmate and smuggled himself into his sector of the camp. Mr Farris
The Tattooist of Auschwitz was recommended to me by Isla in Year10. I devoured it in a day over the summer and haven't had a chance to thank her for the recommendation.
A beautiful story about how positives were always sought in the darkest of times.
Miss Hopkins
The Tattooist of Auschwitz by Heather Morris. - I was profoundly moved by this book; particularly the fact that the Tattooist was in a position of responsibility, but that his life was always at risk. Mrs Uffindell
I remember being pregnant and having to cover a supply lesson about how pregnant women were killed as soon as they arrived in the camps. I had to leave to cry! The books that have made most impact on me are the haunting Sophie's Choice - with the impossible choice of which child lives or dies – and Anne Frank's Diary which leaves such an impression that remains; it's amazing that they could remain so positive despite being terrified. Mrs Clarke
Elli- Coming of Age in the Holocaust by Livia Bitton- Jackson. The bit that sticks out most for me in this book is the reaction of people as she is liberated from the camp. As a 14 year old girl she is mistaken for a woman of 60. Schindler's Ark - Thomas Keneally. Such an interesting story of a flawed man carrying out an amazing rescue operation. I was also struck by the fact that Keneally came across his story by accident one day when he took his bag to a leather shop to be repaired. He remarked that he was a journalist and the repair man told him he had a story he might be interested in...Mrs Smith
Night by Elie Wiesel – told by a Holocaust survivor who had to make a choice, near the end of the war – huge in terms of choices and consequences. Mrs Shawyer
I recently read Address Unknown by Katherine Kressmann Taylor which was written in 1938 and immediately banned by the Nazi Party. It is a fictional exchange of letters between two men who have been friends for years (one American; one German) and powerfully portrays how Nazism destroyed families, friendships and the qualities that make us human. I've also had the privilege of teaching the book Once by Morris Gleitzman to several classes in recent years. It's a remarkable book – every student loves it and it creates a sense of community within the classroom which is truly lifts the spirit. Mrs Lynch
POETRY
'FIRST THEY CAME' by Martin Niemöller
First they came for the Communists
And I did not speak out
Because I was not a Communist
Then they came for the Socialists
And I did not speak out
Because I was not a Socialist
Then they came for the trade unionists
And I did not speak out
Because I was not a trade unionist
Then they came for the Jews
And I did not speak out
Because I was not a Jew
Then they came for me
And there was no one left
To speak out for me.
This poem was chosen by Mr Brand and Mrs Daish