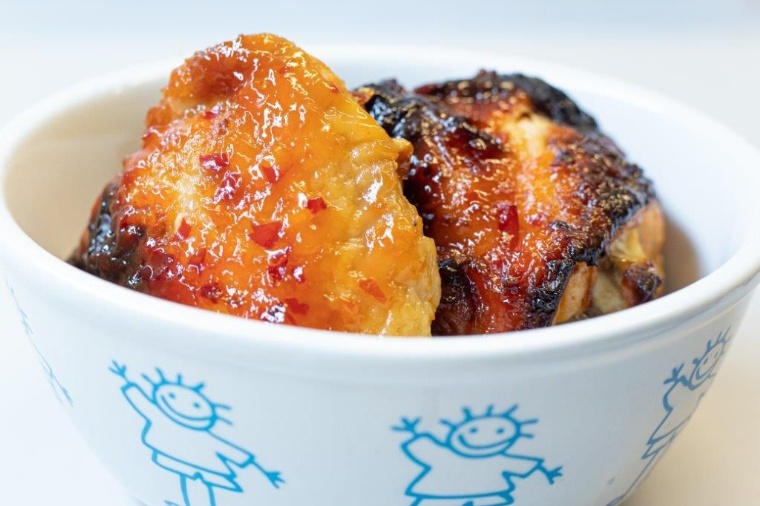 Bonfire Chicken - especially good for a lockdown Guy Fawkes Night!
This dish is a favourite of Mrs Campbell, School Governor and former Eggar's teacher.
She says:
"The groovy thing about this recipe is you can prepare it in advance, but if you are short on time, you can just bung it all together at the last minute and it still tastes fab. I cook it in all in a roasting tin or a lasagne dish."
You can print off the recipe below or better still, buy a copy of The Great Eggar's Cookbook which boasts 156 pages of culinary delights from our students and staff. It can be ordered for only £10.00 using the Order Form below. A perfect Christmas present!
Bonfire Chicken
Serves 6
Preparation time: 1 hour 30 minutes
Ingredients
3 level tbsp Thai red curry paste
150mls orange juice
2 big cloves of garlic, crushed, minced and generally pulverised
12 chicken thighs – with skin on
750g of mixed butternut squash and sweet potatoes, peeled and cubed
6 red onions, peeled and quartered
Salt and pepper
Method
If time permits, combine the Thai curry paste, orange juice and garlic in a bowl. Pour this marinade over the chicken thighs and leave covered in the fridge for up to 6 hours. (This is the ideal world scenario – I don't often marinade the chicken due to time restraints - see note above!)
Pre heat the oven to 200C
Put the chopped vegetables into the dish. Place the chicken thighs on top. Pour over the marinade. Give everything a bit of a stir.
Place in to the oven on the middle shelf, for 1 hour and 10 minutes. Give an occasional stir to ensure it is not burning and the marinade is covering all chicken.
This dish really does not need anything else with it and can easily be extended to feed a huge virtual crowd ... as we enter Lockdown 2!