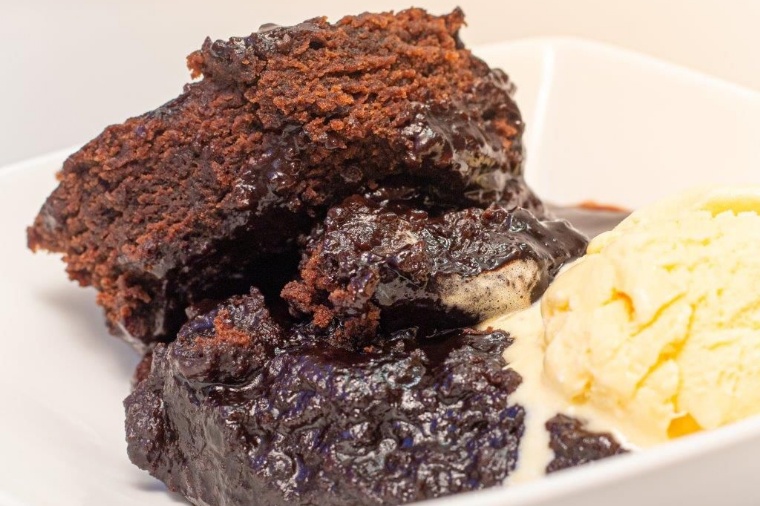 Try Mrs Quinn's Self Saucing Chocolate Pudding
National Dessert Day provides us with the perfect excuse to let our sweet tooth take over. What could be better? From pastries and cakes to chocolates and mousses; there is a dessert for everyone.
Here's Mrs Quinn's amazing Self Saucing Chocolate Pudding!
Serves 8
Time: 1 hour
Ingredients
1 cup self-raising flour
3 tbsp cocoa powder
½ cup soft brown sugar
80g butter
½ cup milk
1 egg, lightly beaten
Vanilla ice cream or cream, to serve
Sauce
¾ cup soft brown sugar
2 tbsp cocoa powder, sifted
1 ¼ cups boiling water
Method
Preheat oven to 180C bake (160C fan forced). Grease a 6 cup capacity ovenproof baking dish.
Sift flour and cocoa into a bowl.
Beat butter and sugar together in a large bowl until creamy. Add in the egg and beat again, slowly adding the milk. Fold in the flour/cocoa mixture until smooth.
Spoon into a baking dish and smooth the top. Now make the sauce.
Combine the brown sugar and cocoa and sprinkle over the pudding. Slowly pour the boiling water over the pudding to cover it. Place the dish into a baking tray and bake for 35 to 40 minutes or until the pudding bounces back when pressed gently in the centre.
Serve hot with vanilla ice cream or cream.
REMEMBER!
You can print off the recipe below or better still, buy The Great Eggar's Cookbook and enjoy all the other recipes in there. It can be ordered for only £10.00 using the Order Form below.
@eggars

Problem of the week! Please do not comment with the solution so other people can work it out too. Instead, like this post if you think you have the correct answer. The solution will be posted in the comments on Thursday at 4pm! Best of luck #UKMT #Problem #Maths https://t.co/p7WvGqGFuc 2:30 PM - 07 Feb 2023

@eggars

No one should have to face mental health problems on their own. @Place2Be are proud to partner with @GiveUsAShout to provide 24/7 support in the UK. If you're struggling, text CONNECT to 85258. Anytime, anywhere. #ChildrensMentalHealthWeek https://t.co/vuxqG2QDak 11:16 AM - 07 Feb 2023

@eggars

https://t.co/rrqJ2Hpi0e https://t.co/pFkiOYiIrK 11:14 AM - 07 Feb 2023
Follow Us