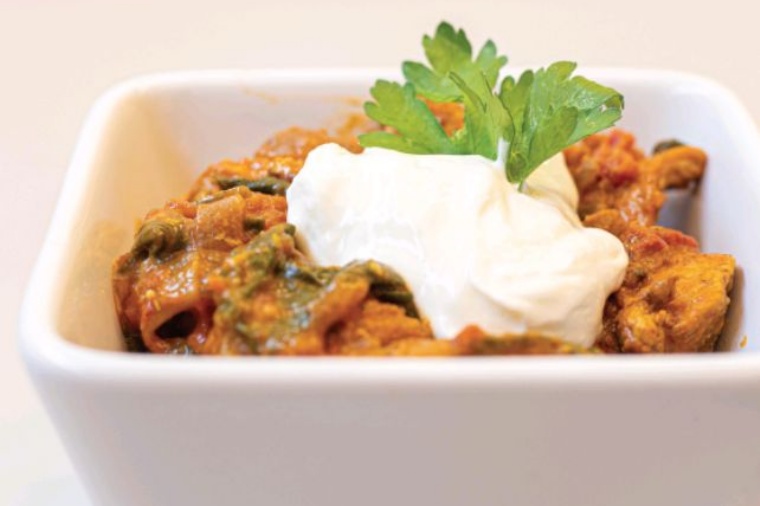 Celebrating National Curry Week: Fake-away Chicken Curry
What could be better than a lovely and simple curry to make? And we have just the recipe
for you. Give it a try - it is National Curry Week after all!
This dish is a favourite of Mrs Jones who submitted it to The Great Eggar's Cookbook which boasts 156 pages of culinary delights from our students and staff.
You can print off the recipe below or better still, buy the Cookbook and enjoy all the other recipes in there. It can be ordered for only £10.00 using the Order Form below. A perfect start to early Christmas shopping perhaps!
Fake-away Chicken Curry
Serves 2
Preparation time: 30 minutes
Ingredients
1 tsp coconut oil
1 small onion, chopped finely
1 clove garlic (or 1 tsp garlic puree)
1 tsp ginger (or 1 tsp ginger puree)
1 tsp cumin
1 tsp turmeric
½ tsp cloves
1 tsp garam masala
Optional - 1 tsp curry powder for an extra kick!
2 chicken breasts
2/3 tin coconut milk
2 tbsp ground almonds
2/3 tin chopped tomatoes
2 large handfuls spinach
Greek yoghurt
Method
Heat the coconut oil in a large pan, add the onions and cook until just starting to soften. Add the garlic and ginger and continue to cook until they are just turning golden brown.
Add the cumin, turmeric, cloves, garam masala (and curry powder if using) and stir into the onions. It should start to make a brown paste. Add the chicken and coat in the paste and continue to cook until the chicken is nearly cooked.
Add the coconut milk, ground almonds and bring to the boil. Add the chopped tomatoes and stir. Bring to a simmer and continue to cook for 10-15 minutes until the sauce thickens. Add the spinach and stir until wilted.
Take off the heat and stir in Greek yoghurt to taste. Serve with rice, naan or for the low carb version, try with poppadoms or cauliflower rice.