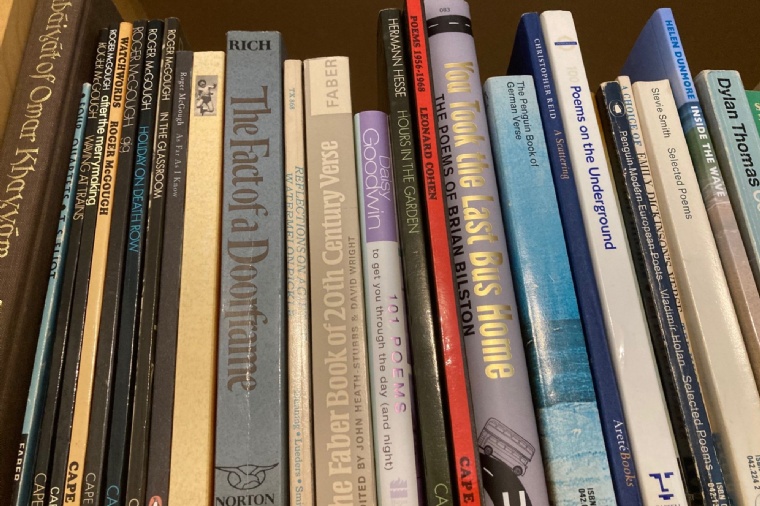 A pastiche of a Wilfred Owen poem
National Poetry Day occurs on the first Thursday of October and encourages everyone to enjoy, discover and share poetry.
Recently, Year 9 students were asked to create a pastiche of a piece of text of their choice. We wanted to share this brilliant work by Logan W who used 'Dulce Et Decorum Est' by Wilfred Owen. The original can also be found below.
What better way to celebrate #NationalPoetryDay than to enjoy Logan's poem.
Heads down, trolley handles wiped,
Two metres apart, trying not to cough, we joined the queue,
Turning our backs from the safety of our cars,
And towards the distant shop began to trudge.
Bored shoppers shuffled. Many had forgotten their phones,
But carried on, silent. Patience wearing thin;
Jaded and depressed; deaf even to the hoots
Of cars passing behind.
Someone coughs! Masks! Quick, everyone! – Security checks.
Fitting the masks just in time,
But someone yells "That old man's still coughing!"
Temperature taken and he's asked to leave.
Dim, through the car park and discarded trolleys,
Pass the barrier, I saw him drive away.
I feel so helpless for that poor man,
He looks at us as he drives away.
If you could see the look on his face,
Behind the steering wheel, we stare at him.
And watch the fear building on his face,
His pale face, with beads of sweat;
If you could hear, his repeated cough, the dryness
Coming from his virus-infected lungs,
Contagious as the plague, tasteless meals
Left uneaten in his fridge.
My friend, you would follow the given advice.
Stay alert, control the virus, save lives.
And remember hands face space.
Wilfred Owen's Dulce et Decorum Est
Bent double, like old beggars under sacks,
Knock-kneed, coughing like hags, we cursed through sludge,
Till on the haunting flares we turned our backs,
And towards our distant rest began to trudge.
Men marched asleep. Many had lost their boots,
But limped on, blood-shod. All went lame; all blind;
Drunk with fatigue; deaf even to the hoots
Of gas-shells dropping softly behind.
Gas! GAS! Quick, boys!—An ecstasy of fumbling
Fitting the clumsy helmets just in time,
But someone still was yelling out and stumbling
And flound'ring like a man in fire or lime.—
Dim through the misty panes and thick green light,
As under a green sea, I saw him drowning.
In all my dreams before my helpless sight,
He plunges at me, guttering, choking, drowning.
If in some smothering dreams, you too could pace
Behind the wagon that we flung him in,
And watch the white eyes writhing in his face,
His hanging face, like a devil's sick of sin;
If you could hear, at every jolt, the blood
Come gargling from the froth-corrupted lungs,
Obscene as cancer, bitter as the cud
Of vile, incurable sores on innocent tongues,—
My friend, you would not tell with such high zest
To children ardent for some desperate glory,
The old Lie: Dulce et decorum est
Pro patria mori.