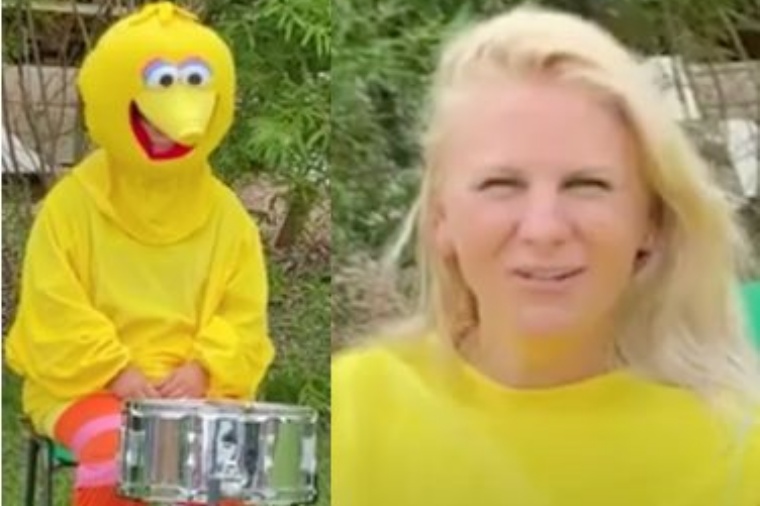 Introducing Mrs Payne: From Big Bird to Spenser House!
Who can forget Mrs Payne's amazing transformation in last term's House Assembly? Now BIG BIRD is but a memory as our new Head of Spenser House looks forward to leading her House to victory this year. Here's what she has to say about her new role:
I'm very excited to have been appointed the Leader of Spenser House. The Eggar's House system is a fun and engaging way to promote what students do really well outside of the classroom. It gives everyone a chance to show off their sporting prowess, their drama and art skills, as well as their musical talents … and all within a competition to win the House Cup.
I know Spenser students really deserve to have their yellow ribbons on the cup and I want to lead them to it. It's going to mean making sure that we take part. That's all. Just taking part in any House Competition we can, and the winning will come! In Spenser we try and try and then we win!
I teach Drama at Eggar's having previously worked in the West End and The National Theatre as a stage manager. My last show was War Horse, which had a very large team behind it. This is important as I know what hard work and excellence looks like. It looks like team work. And that is what we are in Spenser, one big team, striving for excellence…and the House Cup!
@eggars

Problem of the week! Please do not comment with the solution so other people can work it out too. Instead, like this post if you think you have the correct answer. The solution will be posted in the comments on Thursday at 4pm! Best of luck #UKMT #Problem #Maths https://t.co/p7WvGqGFuc 2:30 PM - 07 Feb 2023

@eggars

No one should have to face mental health problems on their own. @Place2Be are proud to partner with @GiveUsAShout to provide 24/7 support in the UK. If you're struggling, text CONNECT to 85258. Anytime, anywhere. #ChildrensMentalHealthWeek https://t.co/vuxqG2QDak 11:16 AM - 07 Feb 2023

@eggars

https://t.co/rrqJ2Hpi0e https://t.co/pFkiOYiIrK 11:14 AM - 07 Feb 2023
Follow Us