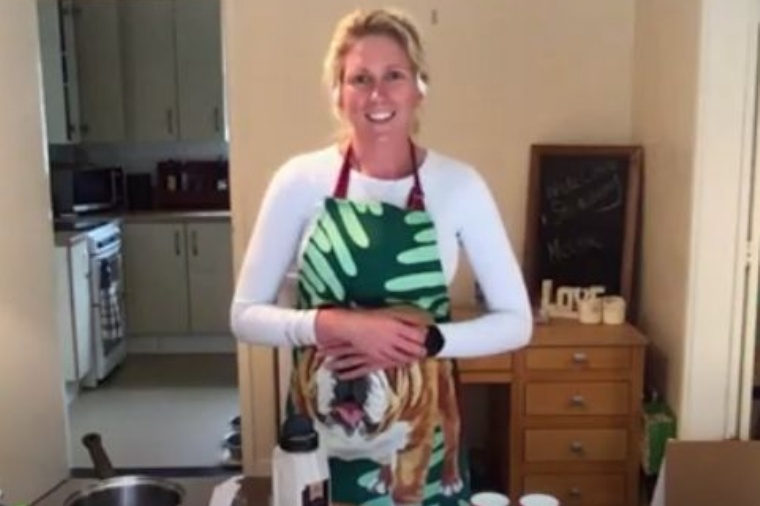 There's a new cookery queen on the block...
Here's our very own Masterchef Mrs Quinn taking you through how to make a white chocolate mousse.
Just click here for her cookery masterclass on YouTube!
DE-LICIOUS!
Ingredients:
200g Chocolate (White or Milk)
200ml Double Cream
2 gelatin leaves or 1.5 teaspoons powdered gelatin
2 eggs, separated yolk from white
1/2 teaspoon of sugar
500g strawberries
1/2 juice of a lemon
2 teaspoons of icing sugar
Method:
Soak the gelatine in cool water. In a bowl, lightly whip the cream.
Melt the chocolate in a separate heat proof bowl over a pan of simmering water, then squeeze the excess water from the gelatine and add to the melted chocolate. Stir until dissolved.
Remove the bowl of melted chocolate from the heat. Separate the eggs and add the egg yolks, sugar and salt to the chocolate, working the ingredients in quickly. Rapidly whisk in the whipped cream, trying to retain as much air as possible in the mix.
Whip the egg whites in another bowl until they form stiff peaks, then gradually and evenly fold into the chocolate mix.
Fill the rings with the mix and transfer to the fridge to set for at least 2 hours
Place 200g of the strawberries in a blender with the icing sugar and a squeeze of lemon juice. Blend the fruit to a purée and force through a fine sieve to remove the seeds, then set the coulis aside.
Cut the remaining strawberries into cubes and add to a bowl with 2 tablespoons of the strawberry coulis. Mix until the strawberries are glazed. Remove the mousses from the rings, and place on the serving plates. Spoon a little strawberry coulis around the mousse and place the remaining strawberries on top.
Serve immediately.