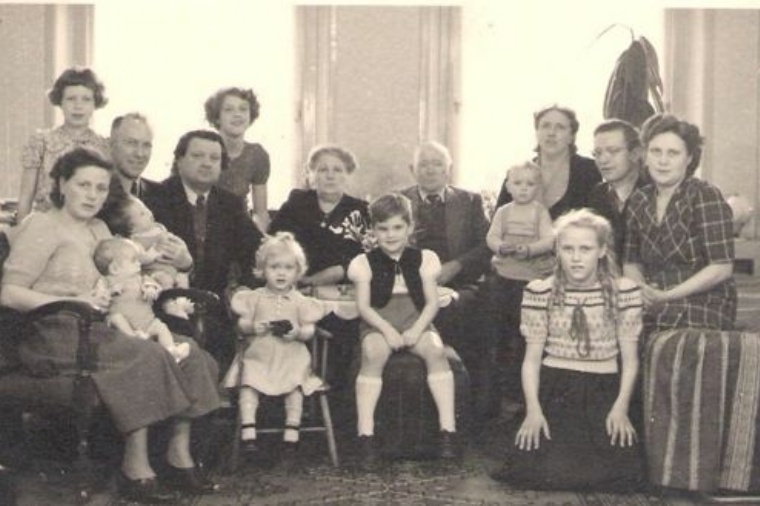 An Eggar's family recalls life in The Netherlands during the Nazi Occupation
Anne Frank would have been 91 on June 12. In an illuminating email interview with their tutor, Maya and Sabrina in Year 9 recall some of the stories of the Nazi Occupation of The Netherlands that have passed down the generations in their family, and reflect on how the story of Anne Frank particularly resonates today.
TUTOR: Your family on your Mum's side is from The Netherlands where Anne Frank lived for most of her life. Do you have any family stories about what life was like during the Nazi occupation of The Netherlands (1940 – 1945)?
MAYA & SABRINA: Our Grandmother lived in Rotterdam; it was one of the worst hit cities during WW2 and was flattened by the bombing. She was five years old when the war started and saw many awful things in her young life. As a result of seeing people starving to death and all the terrible bombings, she was also always afraid.
Our Great Grandfather was a German citizen. He owned a shoelace factory which he moved to the Netherlands years before the war started. During the war he was too old to be a soldier, so he became an ambulance driver and attended to injured soldiers and civilians.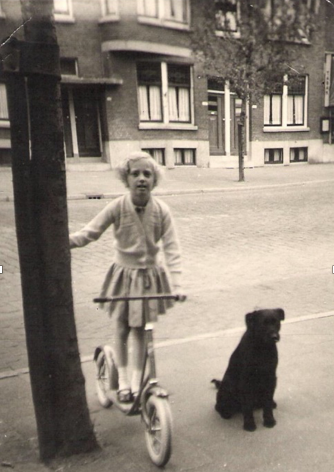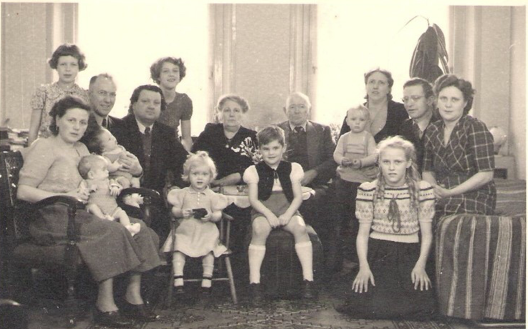 Left: Maya and Sabrina's Grandmother, aged five, in Rotterdam
Right: Maya and Sabrina's family get ready to leave The Netherlands and move to South Africa. Their grandmother is second from the left on the back row.
Our Granny was lucky as her dad managed to collect many large sacks of dried beans before the war started which he hid in the attic. They were lucky to have food through most of the war, but after the war our Granny never ate beans again. Our Great Grandmother also got food stamps, where she could get things like tea, bread and sometimes sugar. Our Great Grandmother used a Nazi flag to make our Granny a dress as she needed new clothes and material was hard to find and very expensive. She could have got into a lot of trouble if she had been found out.
At the end of the war, all Germans were ordered to relinquish anything they owned back to Germany but our Great Grandfather refused to give up his factory. We are not sure why he decided to move to South Africa, but when our Granny was seventeen, they packed up their lives and their shoelace factory and boarded a ship to South Africa.
TUTOR: How do you think your relatives' experiences during the war has shaped you as a family?
MAYA & SABRINA: It makes us feel grateful for what we have and makes us realise what they had to go through, giving up everything and being in constant fear. It makes us feel closer to our ancestors, our roots and where we came from.
TUTOR: What inspired you to read The Diary of Anne Frank back in Year 8, and which parts of her experience made the greatest impression on you?
MAYA & SABRINA: The book reminded us of our Granny because like Anne Frank they were both young girls around the same age living in Holland during the war. It also gave us a better understanding of what it was like living as a child during the war.
TUTOR: Why do you think it's important that future generations continue to learn about Anne Frank and the Holocaust?
MAYA & SABRINA: So people get the message that discriminating against someone because of race, beliefs, heritage and religion is wrong. We also don't want something like the Holocaust or war happening again.
TUTOR: Some people have compared the Covid-19 pandemic to a world war with an invisible enemy. What do you think about this comparison?
MAYA & SABRINA: To some degree they are similar as people are hiding away from it like during the war. We understand that in both situations people are dying but during the war deaths were even more gruesome. During Covid-19 and the war people have lost businesses, homes, money, jobs and can't afford food
TUTOR: Do you think there is anything we can learn from the experiences of either your great grandparents or Anne Frank to help us cope with the situation we find ourselves in at the moment?
MAYA & SABRINA: Even though the war was much harder we need to keep pushing through no matter what. We should all go about our normal routines as best we can. Try keeping your minds off it, try not to be negative, be kind to others, and don't make any insensitive jokes about the crisis as some people have been badly affected. Just like Anne Frank keep your sense of humour and believe in a better tomorrow.
Thank you very much to Maya, Sabrina and their family for sharing their memories.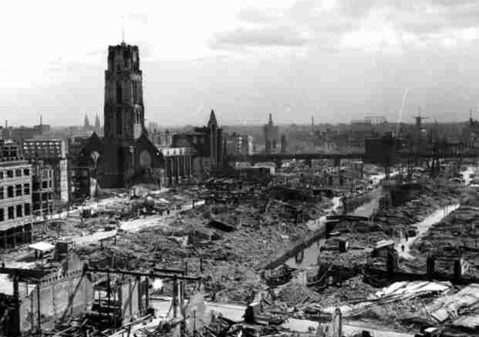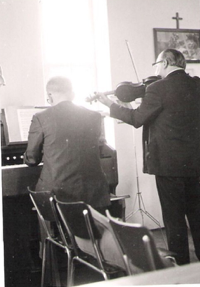 Left: Rotterdam heavily bombed during the war
Right: In addition to owning a shoelace-making factory, Maya and Sabrina's Great Grandfather also taught the violin and piano.
@eggars

Do the Maths! Year 10 students Libby, Evie, Jess and Cali took up the Alton School Maths Challenge this week. Working with four future Eggar's students from Bentley School, they tackled three rounds of very difficult problem-solving maths. They were fantastic ambassadors https://t.co/onVvrb3qcJ 10:18 PM - 25 Jun 2022

@eggars

It's Fri-YAY and we're celebrating Matt D and his performance at the National Schools Biathle last weekend. He was placed 2nd in the Year 7 Boys race. (Biathle is an event that can involve a runswimrun course, or simply a swimrun course). #SoundsExhausting #GoMattGo https://t.co/pIe7RXQUpa 6:00 PM - 24 Jun 2022

@eggars

All rounders! Year 9/10 girls continued their strong rounders season yesterday with a 9.5 to 8 win against Alton School. The team were led to victory by Gemma (Batter of the game) and Charlotte (Fielder of the game). #WeAreEggars #GreenArmy https://t.co/nJ2EQkRBBx 3:38 PM - 23 Jun 2022
Follow Us