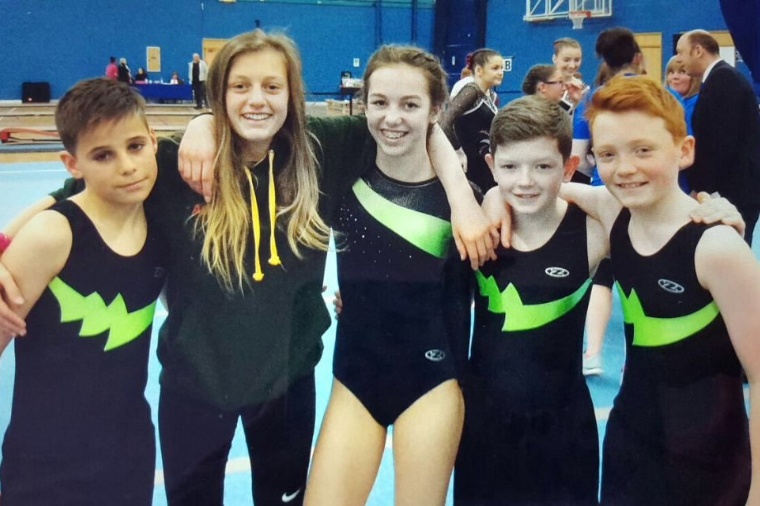 Success at British Gymnastics Final
Four Eggar's U14 gymnasts performed brilliantly at the British Schools Gymnastics Finals, held on April 30 at Fenton Manor, Stoke on Trent.
The boys pairing of Dylan Milner and Finn Lewis won bronze - an incredible achievement as neither student had done any gymnastics before they came to Eggar's. Mixed pairs Amy Klaire and Benji Dowds came 5th, only 0.15 marks short of a medal.
Having two top 5 finishes in a national competition is amazing. The standard across the board was incredibly high.
The current gymnastics squad at Eggar's is very young with a huge amount of potential for the future.
The picture is from left to right: Dylan Milner, Abi Green, Amy Klaire, Ben Dowds & Finn Lewis.
@eggars

Don't forget for Years 7, 8 and 9 (only), it's NON-UNIFORM DAY this Friday 27 May. Only £1.00 to take part via your SCOPAY account or cash on the day. All in aid of the brilliant TEABAG! #WeAreEggars https://t.co/Ye4N4smOV1 5:41 PM - 24 May 2022

@eggars

Come and see us! Take a Guided Tour around our amazing school and see what we mean when we say #WeAreEggars. We still have some spaces for the Tours in June. Book today: https://t.co/eSIlOtZxl2 6:54 PM - 23 May 2022

@eggars

Leadership. Teamwork. Fun! Last Friday Lt Commander Russ Haines from the Royal Navy led a fabulous training day for our student leadership team. Their mobile training apparatus was very similar to a large scale Meccano set! #WeAreEggars https://t.co/9so2z6EtpV https://t.co/IIcLQgmcpn 4:15 PM - 22 May 2022
Follow Us