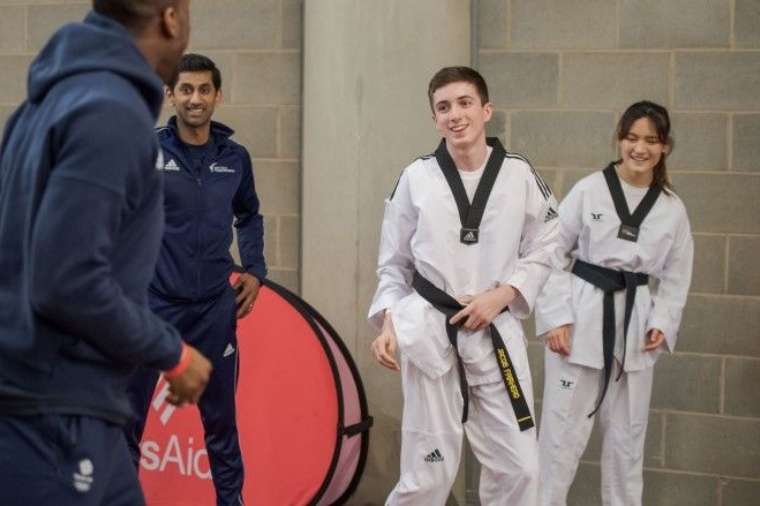 SportsAid blog features Eggar's Taekwondo star ...
SportsAid is aiming to shine a spotlight on the next generation of household names across the UK. They have started a blog series, 'Inside my World' which offers an insight into the lives of the country's most talented young athletes. And first up is our very own Jacob Fairhead!
He is a member of the GB Taekwondo Development Squad and currently supported by SportsAid. He had competed in karate since the age of five before transitioning to taekwondo, just two years ago, with the long-term ambition of reaching the Olympic Games and winning medals at senior level.
Over to Jacob!
"It is a strange situation at the moment because school and training have been cancelled but I'm trying to keep a positive mindset. I was in Year 11 at Eggar's School and the exams which would be in May and June have been called off. I'm not sure if they'll happen later or not because we obviously haven't really been in this situation before, and it's a very odd time for everyone.
I don't have an e-learning set up because everything was focused on my exams but I still have my school books and I've made sure that I'm still doing work – even if it's an hour a day. I still want to keep on top of it and make sure I'm ready just in case.
Normally I would train with the GB Taekwondo Development Squad in Manchester, as well as at my local club Predator Taekwondo, but the sessions have been cancelled which is a shame. However, I'm fortunate enough to have a garage that's all matted out and it's a good space for me and my dad Chris, or me and my brother Charlie, to go in there and train.
We can just spend the day in there training. I don't want to stop training – I want to stay on top of it all the time. The main thing I'm doing at the minute to keep a positive mindset with training is to stick to my normal schedule. I'm waking up at a reasonable time and I'm keeping the same training schedules because otherwise you can become overwhelmed.
Sticking to a schedule and being organised with my time has really helped me a lot with staying positive. So, whenever I used to have training, so for example on a Monday evening, I try and stick to that timing and replicate it throughout the week. Obviously I love taekwondo so I'm certainly not complaining about doing training or other activities which are different to normal.
On a day when I was meant to be at school, that's the sort of time where I can pick and choose what type of training I'll go and do. I might go out and walk my dogs – we've got two German Shepherds called Sergeant and Pepper – or I might go out for a cross-country run near the forest close to my house. It's just getting out and doing a bit of exercise is better than not doing anything at all.
I've had a lot of support from GB Taekwondo too during this time. They're still giving their athletes training plans that we can do, as well as support with psychology and nutrition. I'm also still staying in contact with my team-mates as we message each other. While with my coaches, I had a phone call with them to analyse one of the recent fights I had at a competition.
GB Taekwondo are going to give weekly updates about what we can do and how we can continue to stay in contact with them. It's great to have that and remember that they are still there if I need them. Usually I would be training towards a competition and it's a little bit frustrating that they're not going to happen now.
But I think with this time, where we all have to stay at home, it's a good opportunity to train and improve your mindset. I'm not training towards a specific competition but I'm still training to improve myself and my taekwondo – and that's all we can do now in what is a really strange time for everyone!"
@eggars

We hope everyone has a happy, active Easter. Looking forward to summer activities on our return https://t.co/UM4kOigExA 6:57 AM - 01 Apr 2023

@eggars

Wishing everyone a relaxing Easter break and please read our latest newsletter. https://t.co/M6P02Ly3ch https://t.co/4EwzE5sGDt 1:02 PM - 31 Mar 2023

@eggars

End of term and our Refectory have Hot Cross Buns on offer for the students and staff. The team do an amazing job keeping everyone fed and happy at school. #easter #endofterm #WeAreEggars https://t.co/mv568iwwdw 9:25 AM - 31 Mar 2023
Follow Us