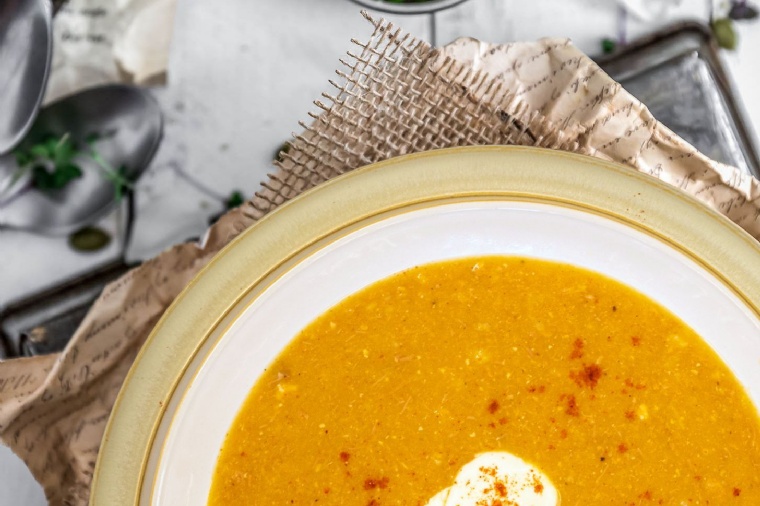 How to rustle up a tasty soup ...
Here Mrs Quinn gives you a basic recipe plus some great flavour combinations that she knows work well. Give one a try!
Method: Melt butter/heat oil in a large sauce pan over a medium how heat. Saute onion for 5 minutes, until soft add in any herbs or seasoning at this point and stir until fragrant.
Add the vegetables and cover, gently cook for 10 minutes or until they begin to soften.
Pour in the stock/liquid and bring to the boil, then cover and simmer on low for 20 minutes to let the flavours develop. Take off the heat and either mash or blend the soup to the desired consistency. This might need to be done in batches. Once all back in the pot at your desired consistency, season to taste. Ladle into bowls and serve.
Flavour Combinations:
Leek, Potato and Spinach
2 tablespoons butter/oil
1 onion, diced
2 leeks, sliced
1 teaspoon mixed herbs
250g potato, diced
300g spinach
500ml stock
Salt and pepper
Carrot and Corriander
2 tablespoons butter/oil
1 onion, diced
300g carrots, sliced
250g potato, diced
1 stick of celery (optional)
1 teaspoon coriander
500ml stock
250ml milk (add at very end)
Salt and pepper
Sweet Potato and Apple
2 tablespoons butter/oil
1 onion, diced
2 large apples, peeled, cored and diced
500g sweet potato, diced
1 stick of celery (optional)
500ml stock
250ml apple juice
Salt and pepper
Pea and Herb
2 tablespoons butter/oil
1 onion, diced
300g frozen peas
250g potato, diced
300g of spinach
1 teaspoon of herbs, (ideally mint or basil)
500ml stock
Salt and pepper
Curry Root Soup
3 tablespoons of butter or oil
1 onion
2 large garlic cloves
1 teaspoon curry powder (add an extra teaspoon if you like it spicy)
1 small swede
1 potato
2 carrots
1 sweet potato
1 L of stock (or enough to cover all the veg)
Salt and Pepper
@eggars

#MondayMotivation Day One of our Great House Summer Fundraising event for TEABAG. Today Monty started their journey across Ghana by rowing machine and bike! Can't wait to find out how many miles they covered... #WeAreEggars #GoForGhana https://t.co/cmlBbDZN09 5:26 PM - 04 Jul 2022

@eggars

Journalists in the making! Zack and Jonathan interviewed Tom Yendell about TEABAG, his role as one of the Trustees and the amazing work the Charity does. This is what they found out! https://t.co/Zhg2jTv5AY #WeAreEggars https://t.co/JgRneatLtR 5:06 PM - 30 Jun 2022

@eggars

Do the Maths! Year 10 students Libby, Evie, Jess and Cali took up the Alton School Maths Challenge this week. Working with four future Eggar's students from Bentley School, they tackled three rounds of very difficult problem-solving maths. They were fantastic ambassadors https://t.co/onVvrb3qcJ 10:18 PM - 25 Jun 2022
Follow Us