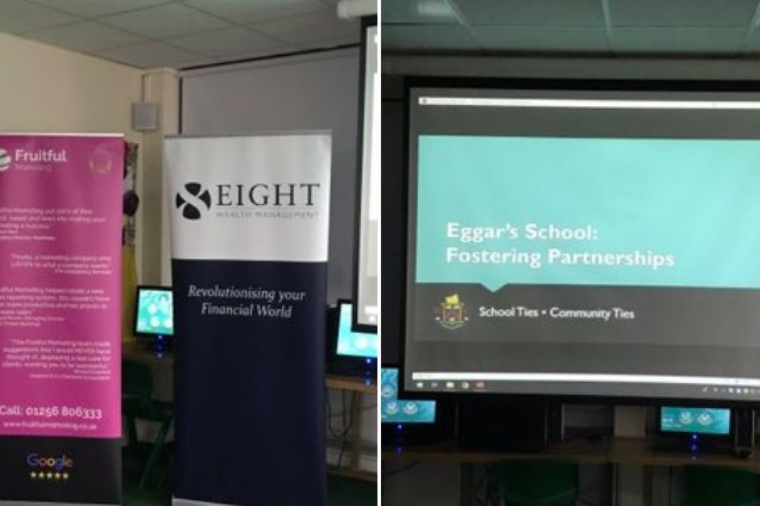 Expanding networks for Alton businesses
Alton Business Platform was set up by James Wright from Fruitful Marketing and Stuart Brown from Eight Wealth Management. Its aim is for local businesses to regularly meet and engage with each other in order to grow and develop.
There were 5 speakers who presented for 5 minutes (only!) on a wide range of fascinating topics:
Rob Fryer, Brandstorm - 5 psychological factors of building brand trust and awareness
Andy Martin, Candy Tours - A journey with Candy Tours...
Di Owen, Eggar's School - Opportunities for businesses to partner with the school
Emma Louise-Smith, Moxie Business Marketing - The SOS Guide to Social Media
Sarah Burch, Enterprise M3 - Fully government-funded support for SME's
It was a really interesting evening and hopefully the first of many to be held at Eggar's.
@eggars

Come and see us! Take a Guided Tour around our amazing school and see what we mean when we say #WeAreEggars. We still have some spaces for the Tours in June. Book today: https://t.co/eSIlOtZxl2 6:54 PM - 23 May 2022

@eggars

Leadership. Teamwork. Fun! Last Friday Lt Commander Russ Haines from the Royal Navy led a fabulous training day for our student leadership team. Their mobile training apparatus was very similar to a large scale Meccano set! #WeAreEggars https://t.co/9so2z6EtpV https://t.co/IIcLQgmcpn 4:15 PM - 22 May 2022

@eggars

It's Fri-YAY and we're celebrating a brilliant Year 8 trampolinist! Abi not only won GOLD in the Regional Challenge Cup Qualifier for Double Mini Trampoline (Level 1) but she also qualified for the next round! Congratulations Abi! #NumberOne https://t.co/hCOfKitPxk 4:12 PM - 20 May 2022
Follow Us