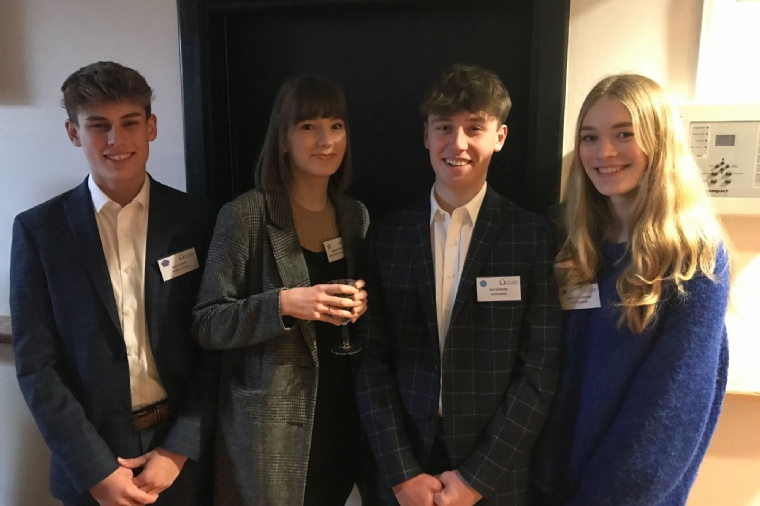 Alton College Foundation: Supporting students and scholars
It was a proud evening for the friends and family of 4 Eggar's alumni who were awarded scholarships to help with their future studies. Pictured above (left to right), Noah Goros, Amelia McKenzie, Ben Morgan and Mathilda Weston all attended the event at Alton College last week. In a list of 12 schools and Colleges, Eggar's boasted the highest number of students receiving Awards.
The Alton College Foundation was created in 1999 and 329 scholarships have now been awarded. £550,000 has been raised and it is believed to be the most successful state education focused scholarship scheme in the UK.
Here is what the future holds for our 4 Alumni with the help of their scholarships.
Noah is studying A levels in Biology, Chemistry and Maths and was awarded the Richard Frankel Memorial Scholarship for Excellence in Medicine, sponsored by Mrs Merula Frankel. Noah is committed to a career in medicine and intends to become an orthopaedic and trauma surgeon.The funding will assist in the purchase of resources for his Extended Project Qualification which will focus on medicine and sport and in buying reading materials and attend open days to secure his place at university to study medicine.
Amelia is currently studying A levels in French, Spanish, Politics and Economics and was awarded the Alastair Graham Scholarship for Excellence in Modern Foreign Languages, sponsored by Sir James Scott. The funding will enable her to attend an intensive language course in Madrid this summer to fully immerse herself in the Spanish language and culture. She is keen to progress on to a Russell Group university to study International Relations with a Modern Foreign Language.
Ben is studying A levels in Psychology, History, PE and Level 2 Award in Sports Leadership, was awarded the Scholarship for Excellence in Sport sponsored by The Alton Lions. He intends to study at Bath University whilst continuing to play hockey for Wales. The scholarship funding will enable Ben to fund the purchase of sports equipment and support him on his hockey tour in the coming year.
Mathilda is currently working towards her Extended Diploma in Art & Design, and was awarded the Scholarship for Excellence in Art, sponsored by Sir Simon & Lady Robertson. Having already undertaken work experience at a fashion company, she is intent on a career in the creative arts industry. The funding will enable her to purchase resources and materials for her art studies.
Congratulations to them and thanks to the Alton College Foundation!
@eggars

Problem of the week! Please do not comment with the solution so other people can work it out too. Instead, like this post if you think you have the correct answer. The solution will be posted in the comments on Thursday at 4pm! Best of luck #UKMT #Problem #Maths https://t.co/p7WvGqGFuc 2:30 PM - 07 Feb 2023

@eggars

No one should have to face mental health problems on their own. @Place2Be are proud to partner with @GiveUsAShout to provide 24/7 support in the UK. If you're struggling, text CONNECT to 85258. Anytime, anywhere. #ChildrensMentalHealthWeek https://t.co/vuxqG2QDak 11:16 AM - 07 Feb 2023

@eggars

https://t.co/rrqJ2Hpi0e https://t.co/pFkiOYiIrK 11:14 AM - 07 Feb 2023
Follow Us