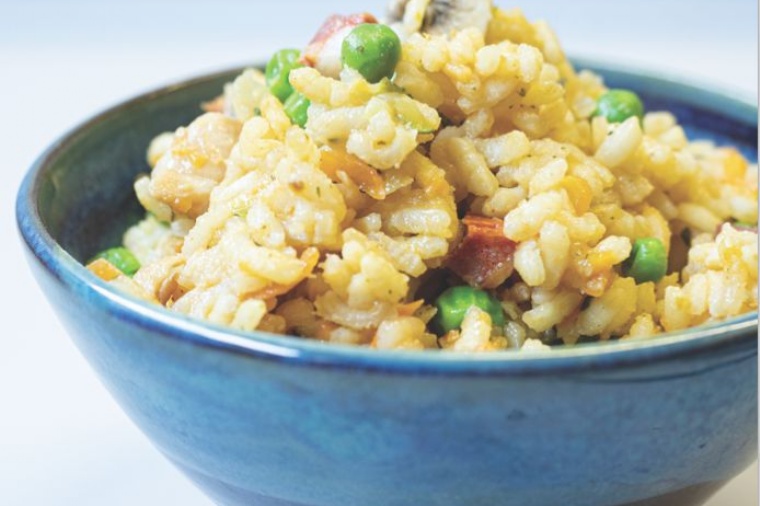 Vegetable, Chicken and Chorizo Risotto
Check out our Recipe of the Month for January! This is just a taster from The Great Eggar's Cookbook - 156 pages of culinary delights which is out NOW! From a slice of cake to accompany your morning coffee to a three-course dinner party, you will find a wealth of inspiration amongst these tried and trusted favourites, brought to you by our students, staff and families.
Try Mr Michael's favourite risotto! You can print off the recipe or better still, buy the Cookbook and enjoy all the other recipes in there. It can be ordered for only £10.00 using the Order Form below!
Vegetable, Chicken and Chorizo Risotto
Serves 4
Ingredients:
1 onion, finely chopped or blitzed
3 cloves of garlic, crushed or blitzed
300g arborio risotto rice
1 litre of vegetable stock
250g of chicken breast, chopped into bitesize chunks
100g of chorizo sausage, chopped into 1cm cubes
1 courgette, grated
1 carrot, grated
4 or 5 of your favourite mushrooms, chopped
Handful of peas
Pinch of black pepper
15g of butter
Method
Heat the pan and add the butter on a low heat – once the butter has melted, add the chicken and the chorizo. Cook for about 4-5 minutes until cooked through and then remove them from the pan and set aside.
Add the onion and garlic to the pan and cook until browned 3 or 4 minutes.
Boil the kettle and make the stock.
Once the onion and garlic are slightly browned and soft, add the risotto rice and stir to coat the rice in the butter left from the cooking of the meats.
From this point of the recipe stir regularly and add another 150mls of stock when it seems the rice may be going dry.
Add enough of the stock to cover the rice and leave for the rice to absorb the stock for about 2 mins. Then add more stock.
Season with black pepper.
Add the mushrooms, courgette and carrot to the pan and stir (you will probably need to add more stock at this point)
Keep stirring regularly over the next 10 – 15 minutes and adding about 150mls of every 4 or 5 minutes until the rice is cooked through.
With about 5 minutes left, add the peas
Serve in a bowl and tuck in.
@eggars

Do the Maths! Year 10 students Libby, Evie, Jess and Cali took up the Alton School Maths Challenge this week. Working with four future Eggar's students from Bentley School, they tackled three rounds of very difficult problem-solving maths. They were fantastic ambassadors https://t.co/onVvrb3qcJ 10:18 PM - 25 Jun 2022

@eggars

It's Fri-YAY and we're celebrating Matt D and his performance at the National Schools Biathle last weekend. He was placed 2nd in the Year 7 Boys race. (Biathle is an event that can involve a runswimrun course, or simply a swimrun course). #SoundsExhausting #GoMattGo https://t.co/pIe7RXQUpa 6:00 PM - 24 Jun 2022

@eggars

All rounders! Year 9/10 girls continued their strong rounders season yesterday with a 9.5 to 8 win against Alton School. The team were led to victory by Gemma (Batter of the game) and Charlotte (Fielder of the game). #WeAreEggars #GreenArmy https://t.co/nJ2EQkRBBx 3:38 PM - 23 Jun 2022
Follow Us