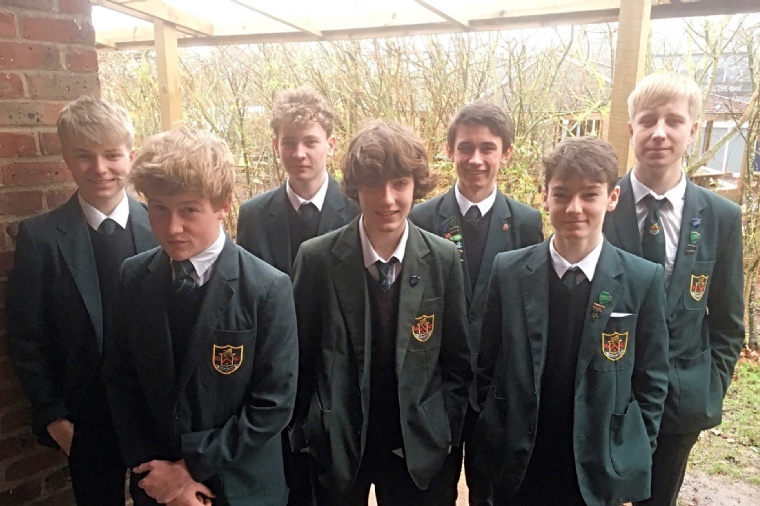 The Eggar's 7 start their applications ...
An Arkwright Engineering Scholarship is the most prestigious scholarship of its type in the UK, inspiring and nurturing school-age students to be the country's future leaders of the Engineering Profession. The Scholarships are awarded to high-calibre 16 year old students through a rigorous selection process including a written application, a 2 hour exam and a University interview.
The following students are just starting their application for the Scholarship. They had their preliminary interview today and the Arkwright representative was extremely impressed.
They are Oscar P, Stanley P, George L, Tom B, Xander S-S, R Devine and Tom S-B
Every Scholarship is sponsored by a commercial company, trade association, university, professional institution, armed service, government organisation, worshipful company, charitable trust or personal donor. This means that support is offered in various different ways, for example, valuable hands-on work experience, support for a curriculum project and a personal mentor who can help with aspects of a student's studies and career planning.
Good Luck to the Eggar's 7!
@eggars

#MondayMotivation Day One of our Great House Summer Fundraising event for TEABAG. Today Monty started their journey across Ghana by rowing machine and bike! Can't wait to find out how many miles they covered... #WeAreEggars #GoForGhana https://t.co/cmlBbDZN09 5:26 PM - 04 Jul 2022

@eggars

Journalists in the making! Zack and Jonathan interviewed Tom Yendell about TEABAG, his role as one of the Trustees and the amazing work the Charity does. This is what they found out! https://t.co/Zhg2jTv5AY #WeAreEggars https://t.co/JgRneatLtR 5:06 PM - 30 Jun 2022

@eggars

Do the Maths! Year 10 students Libby, Evie, Jess and Cali took up the Alton School Maths Challenge this week. Working with four future Eggar's students from Bentley School, they tackled three rounds of very difficult problem-solving maths. They were fantastic ambassadors https://t.co/onVvrb3qcJ 10:18 PM - 25 Jun 2022
Follow Us