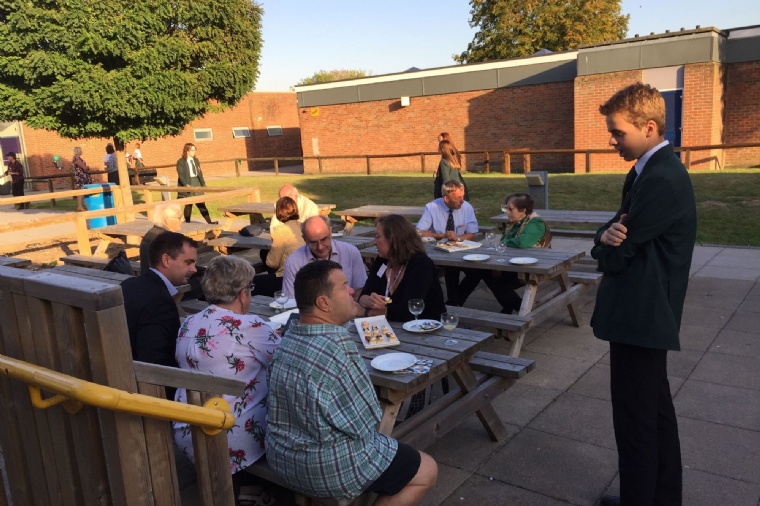 Beautiful late summer weather makes it an evening to remember!
Alumni from the last 7 decades, local businesses, the Mayor, town councillors, trustees and governors joined us for a thoroughly enjoyable evening last Thursday celebrating what's new, what's changed, and what's happening at the school. It was a perfect introduction and reintroduction to Eggar's for many of our guests.
This was the first event of its kind for the school and there was a really relaxed and warm atmosphere as guests mingled in and outside the Refectory with drinks and nibbles. There was some great singing from the choir who performed some wonderful 'songs from the shows' - a perfect backdrop to the conversation and laughter as memories were exchanged.
For some of our Alumni, it was the first time they had been back to Eggar's since they had left. Some had made a special trip from London and Salisbury to be a part of the event.
Tours of the school were led by some of our current students and many were amazed at how much building work had happened over the last 10 years and how the facilities had changed and developed. The new ATP in particular caused quite a stir!
Mr Sullivan and Mrs Campbell ( A very recent Alumni herself, having left the school in the summer after 22 years of teaching at Eggar's) spoke enthusiastically to the group in the Library. They also asked for any help from them with things like mentoring current students or conducting interviews during National Careers Week next year. It was a really positive close to the evening.
One Alumni who left in 2013 commented: "It definitely brought back memories - I remembered far more than I thought I would, I could even find my exact seat in my old English classroom!" (Ellora Sutton)