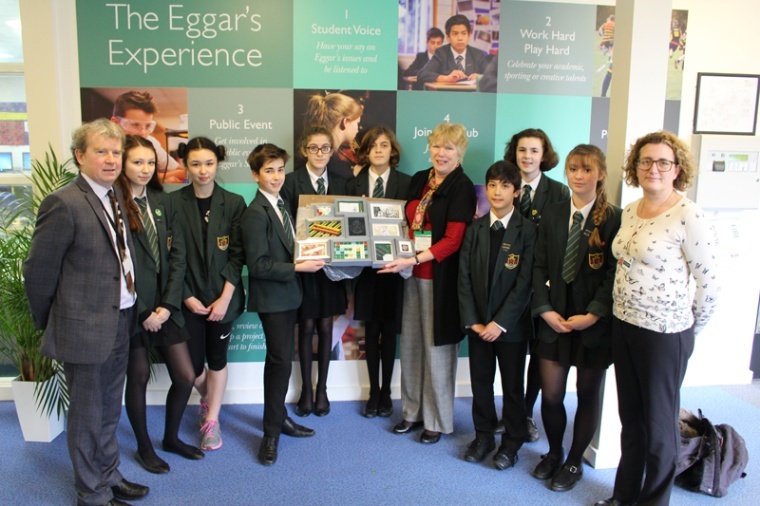 A Tribute to Dedicated Service
After fourteen years of service, thirteen as Chair, Mrs Margaret Crowe retired in December from the Eggar's School Governing Body. In appreciation, Art teacher Claire Drewe and some of the Eggar's GCSE Art students created a meaningful and lasting memento of her tenure. The colourful collage of silver frames holds various Eggar's-themed creations. Together with Head Teacher, Patrick Sullivan and Mrs Drewe, the students presented their gift to Mrs Crowe who enjoys painting in her spare time.
Mrs Crowe began her service as an Eggar's School governor in September 2001, appointed by the Local Authority and, within a year, she was serving as Chair. Over the next thirteen years, Mrs Crowe worked with four head teachers, helped raise the school from Ofsted-rated good to outstanding, where it has remained for over a decade, and guided Eggar's through the process of becoming an Academy.
With a background in software design and development, Mrs Crowe's encyclopaedic knowledge of school governance benefitted many hundreds of Eggar's staff and students. Her multiple terms of office were characterised by professionalism, generosity of time and talent, and dedicated service to the best interests of all the students. Thus, a thank you gift from current students, marking her service to so many, seemed a fitting way to show sincere and lasting gratitude to Margaret Crowe.
Pictured from left to right: Patrick Sullivan, Head Teacher / Leah Foulds / Freya Thomas-Taylor / Ross McKenzie / Charlotte Adderson / Emily Adderson / Margaret Crowe / Douglas Ginn / Isabel James / Martha Kingsley / Mrs Claire Drewe