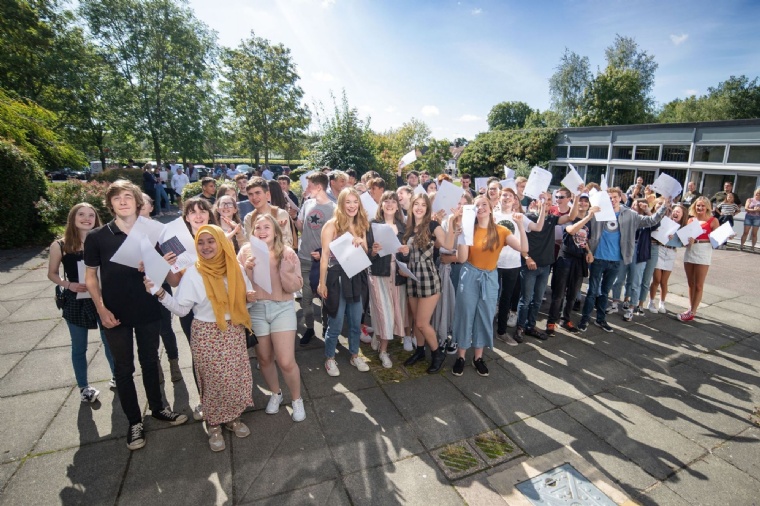 Eggar's students have, once again, received their highly anticipated exam results assessed using the 1-9 grade scale at GCSE. This year the vast majority of students have performed well, especially in the Core Subjects with a significant number of students achieving multiple grades 8&9.
Head Teacher, Patrick Sullivan, commented:
"I am delighted for the students and their families; these results reflect the commitment of the whole school community. The Year 11 cohort worked very hard and this is a reward for their ambition and determination. Results were extremely pleasing in the separate Sciences, Computer Science and Design Technology. It is remarkable to see over 270 7, 8 and 9 grades separately awarded across all subjects.
Some students achieved 6 or more grades 8 & 9, these were: Amelia McKenzie (9), David Gee (9), Bethan Caldwell (8), Kashfiah Chowdury (7), Archie Harrison (7), Thomas Day (6), Noah Goros (6), Thomas Holburn (6), Harvey Startup (6) and Michael Stokes (6). Congratulations to all 47 students who achieved at least one grade 8 or above.
Students who have progressed exceptionally well whilst at Eggar's include: Sophie Voller, Rosie Mitchell, Ben Robinson, Ellie Lamport, Anna Barwick, Olivia Quinn-Lavous, Douglas Ginn and April Harding. Well done!
Staff have worked unbelievably hard and their tremendous commitment has made the difference for so many of our students. We are delighted for this group of very talented students which leave Eggar's with bright futures and careers ahead."