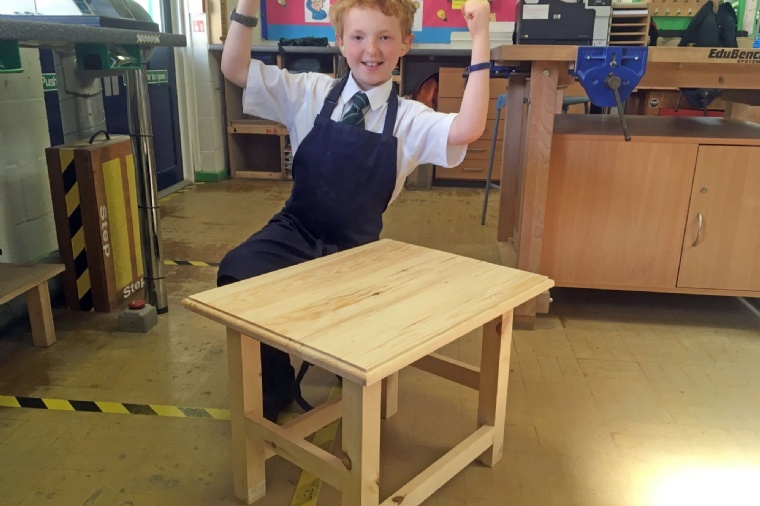 Furniture making club a big success!
Students can choose from a huge variety of after school clubs and activities through the Eggar's Experience. This year Mr Waite ran a furniture making club which although open to all year groups, attracted the most interest from Year 7 and 8s.
Mr Waite explains, 'Wooden structures can be built using several different methods. Broadly speaking, these can be split into two types; frame and carcase construction. This year students concentrated on frame construction. They learned how to construct dowel joins as well as mortise & tenon joints.
After a few practices they were good to go. I was amazed at both their enthusiasm and the quality of their work'
After completing a group project of making a Rennie Mackintosh chair, students split into smaller teams of twos and threes to design and create a table, using their newly acquired skills.
Bill Barker in Year 8 took on the challenge of making a table on his own.
'Bill was very dedicated', Mr Waite explains, 'He would turn up every week without fail to work on his table. It became a labour of love and he managed to complete it just in time to take home at the end of term. It's a beautiful piece of work and will last a lifetime. I am really proud of Bill and all my young furniture makers this year'
@eggars

Do the Maths! Year 10 students Libby, Evie, Jess and Cali took up the Alton School Maths Challenge this week. Working with four future Eggar's students from Bentley School, they tackled three rounds of very difficult problem-solving maths. They were fantastic ambassadors https://t.co/onVvrb3qcJ 10:18 PM - 25 Jun 2022

@eggars

It's Fri-YAY and we're celebrating Matt D and his performance at the National Schools Biathle last weekend. He was placed 2nd in the Year 7 Boys race. (Biathle is an event that can involve a runswimrun course, or simply a swimrun course). #SoundsExhausting #GoMattGo https://t.co/pIe7RXQUpa 6:00 PM - 24 Jun 2022

@eggars

All rounders! Year 9/10 girls continued their strong rounders season yesterday with a 9.5 to 8 win against Alton School. The team were led to victory by Gemma (Batter of the game) and Charlotte (Fielder of the game). #WeAreEggars #GreenArmy https://t.co/nJ2EQkRBBx 3:38 PM - 23 Jun 2022
Follow Us