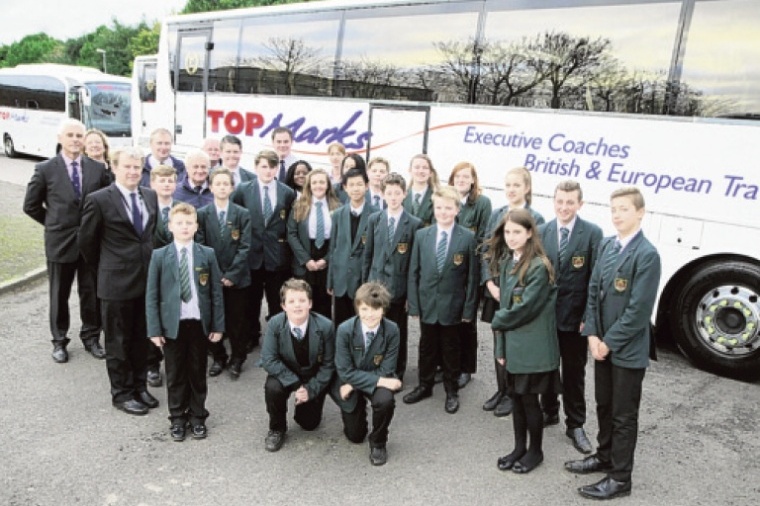 Partnership between TOP Marks Coaches and Eggar's
The close partnership between TOP Marks Coaches and Eggar's School ensures that over 100 students are transported to and from school safely and securely, in a comfortable and relaxed environment.
Hampshire County Council has recognised the school student transport arrangements between TOP MARKS Coaches and Eggar's to be an example of best practice.
Mark Hack from TOP Marks Coaches and Anthony Carter, Assistant Head Teacher at Eggar's, were both invited to present their partnership model at a recent anti-bullying conference in Winchester. They emphasised the importance of a close partnership between the two organisations which has led to the success of the arrangement, and the recognition that their collaboration is a model of best practice in Hampshire.
Photograph courtesy of Alton Herald
@eggars

Problem of the week! Please do not comment with the solution so other people can work it out too. Instead, like this post if you think you have the correct answer. The solution will be posted in the comments on Thursday at 4pm! Best of luck #UKMT #Problem #Maths https://t.co/p7WvGqGFuc 2:30 PM - 07 Feb 2023

@eggars

No one should have to face mental health problems on their own. @Place2Be are proud to partner with @GiveUsAShout to provide 24/7 support in the UK. If you're struggling, text CONNECT to 85258. Anytime, anywhere. #ChildrensMentalHealthWeek https://t.co/vuxqG2QDak 11:16 AM - 07 Feb 2023

@eggars

https://t.co/rrqJ2Hpi0e https://t.co/pFkiOYiIrK 11:14 AM - 07 Feb 2023
Follow Us