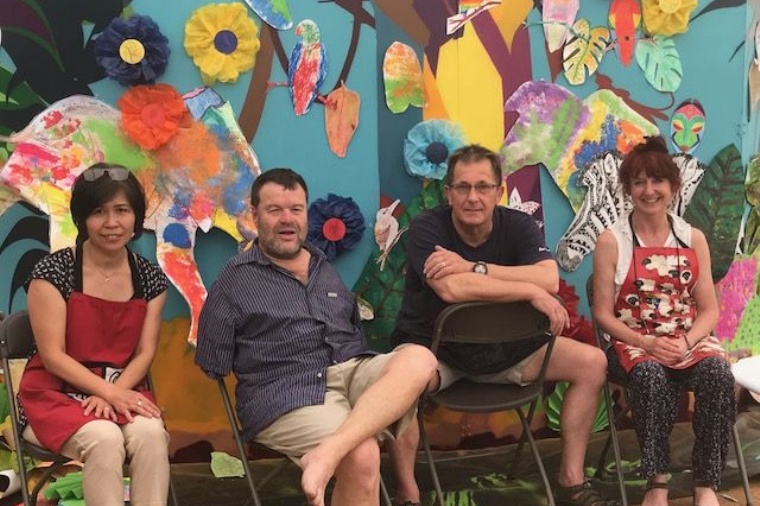 Murals, plaster casts, paintings, drawings, animals... and Alistair Stewart!
Another incredibly rewarding and busy Community Arts Week took place at school last week in brilliant, hot weather.
Over the five days we had nearly 200 visiting students from local schools and colleges and they had a fantastic time creating and contributing to 2 large murals - one jungle scene and one beach scene. There were 8 artists in residence - some came for more than one day to provide their creativity and expertise.
Morgan Davey: "Graffiti Guy". Created the jungle mural.
Sequin Joanna: Painter. Created the beach scene mural.
Russell Jakubowski: Sculptor. 3D relief work and plaster casts.
Simon Mellish: Drumming Instructor.
Sachi Mason: Origami and paper crafts to populate the murals.
Judith Venn: Painting and printing of animals and making of jelly fish
Catherine Cook: Artist. Drawings for the murals.
The fabulous Mill Cottage Farm Experience came twice, bringing their turkeys, goslings, goats, pygmy pigs, alpacas, chickens, dogs, and rabbits. Everyone loved the chance to get up close to these animals - a really popular activity!
There were nearly 100 support staff and over 60 Eggar's students who helped out throughout the week and we were thrilled with their commitment and contribution. Here is some feedback from some of our happy visitors:
"Thank you so much for Monday, we all had a fantastic time."
"Thank you for the warm welcome to Eggar's School and the Arts Festival yesterday. Please pass on our thanks to the three students who looked after us as well as to the workshop leaders. Our students especially enjoyed the drumming workshop"
Yesterday a mum came to reception to pass on her huge thanks and gratitude as they'd had a lovely time and said the student helpers were fantastic – they were not phased by her son's disability and were extremely helpful offering to carry bags etc and she just wanted to say what a credit they are to the school.
ITN Newsreader Alastair Stewart came along to offer his support to the Mouth & Foot Painting Artists. The MFPA fund the Community Arts Week. They were championing an MFPA Day on 5 September where they are putting down the following challenge: Can you write your name or sketch a picture using your mouth or feet? They would like as many people as possible to try! Tag #mouthsignature #footsignature #mfpaday in your photos.