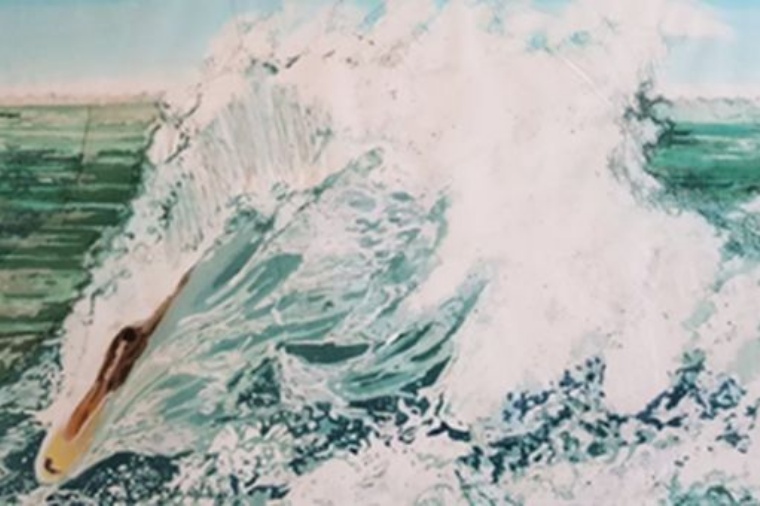 Textile artist extraordinaire!
Mrs Drewe has been part of the Eggar's Art and Design Department for the last 6 years. She first started as an art technician and then became a part-time art teacher in 2013. She taught for 4 years and during this time also completed an MA in Fine Art at UCA Farnham! She left in 2017 in order to spend more time on her own art practice but thankfully she has continued to come back to Eggar's to help with Primary Liaison and do some supply teaching. She is exhibiting some of her work at the Barista Lounge café in Farnham until 18th July along with Julia Keenan, Morwenna Lake and Alison McFadden.
Mrs Drewe comments:
"I am mainly, but not exclusively, a textile artist. I started with batik creating pictures on fabric using hot wax as a resist to dyes and I am chair of the Batik Guild. I still do a lot of batik and also teach it to all ages through workshops.
A lot of the work at the Barista lounge is my batik work. However I also do larger more conceptual work. Last year I exhibited a large hanging at Guildford Cathedral and also exhibited at Bath Festival of Arts. This year I currently have an installation in London at Womanhouse Revisited in Hackney which is a collection of artists exploring what feminism means in 2019".
Examples of Mrs Drewe's work can be seen on her website www.clairedrewe.com. The image is one of her batiks on display at the Barista Lounge. Do go along and take a look!
@eggars

Don't forget for Years 7, 8 and 9 (only), it's NON-UNIFORM DAY this Friday 27 May. Only £1.00 to take part via your SCOPAY account or cash on the day. All in aid of the brilliant TEABAG! #WeAreEggars https://t.co/Ye4N4smOV1 5:41 PM - 24 May 2022

@eggars

Come and see us! Take a Guided Tour around our amazing school and see what we mean when we say #WeAreEggars. We still have some spaces for the Tours in June. Book today: https://t.co/eSIlOtZxl2 6:54 PM - 23 May 2022

@eggars

Leadership. Teamwork. Fun! Last Friday Lt Commander Russ Haines from the Royal Navy led a fabulous training day for our student leadership team. Their mobile training apparatus was very similar to a large scale Meccano set! #WeAreEggars https://t.co/9so2z6EtpV https://t.co/IIcLQgmcpn 4:15 PM - 22 May 2022
Follow Us