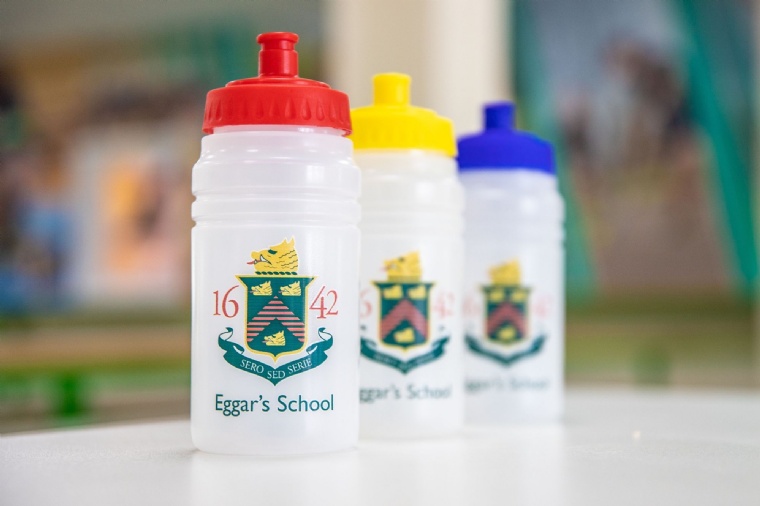 To add our voice to the campaign to end plastic pollution, we took the pro-active step back in April 2018 to stop selling single-use plastic bottles from all our catering outlets. We introduced 'hydration stations' to our new Refectory and in various points around the school, so that students could obtain water whenever they needed it. This has been very successful and welcomed by the whole school community.
Eggar's got the bottle!
On June 19, to coincide with National Refill Day, we introduced our new re-usable BPA-free Eggar's water bottles. We asked our students if they've #GotTheBottle to prevent plastic pollution by switching to these new bottles. It has proved a very popular move.
To help reduce our Carbon Footprint further, we are working in partnership with our Caterers HC3S to ensure all food wrappings sold in school are bio-degradable. Wrappings are disposed of using modern energy-from-waste technology, via our waste provider Suez who also manage our general waste ensuring they maximise what can be recovered.
Getting to school in a healthy, sustainable and safe way
We have set up a formal Park and Stride scheme encouraging parents and guardians to drop off students in Anstey Park so students can safely walk at least some of the way to and from school. It only takes 5 minutes and with no fear of muddy shoes because of the new fully weather proof paths.
In a recent transport survey, we were delighted to see the move from cars to feet. The percentage of students using a car or car share to get to school was less than 20% compared to 44% who currently walk, cycle, scoot or skate to school. In fact this year, we were awarded a certificate from Modeshift STARS, a national schools' award scheme recognising schools that have demonstrated excellence in supporting sustainable travel!
Whilst we already hold the Bronze status, we are hopeful we will achieve Gold by the end of the summer - making Eggar's the first secondary school in East Hampshire to achieve this accolade.
Going green is definitely a team effort at Eggar's!