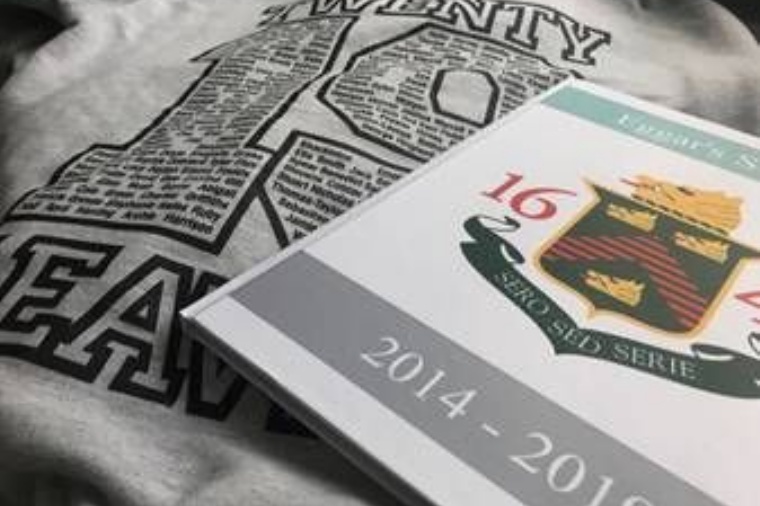 An emotional, sentimental and celebratory day ...
An Eggar's leaver writes ...
A rite of passage at the end of year 11 is Leavers' Day, and it came around quicker than we ever imagined.
Unfortunately, the day started with our final exam - physics paper 2 but soon enough the exam was over, and we rushed up to the refectory where we had bacon butties!
We went out on to the field to take photos and sign each others shirts and then went to our tutor rooms to receive our year books and hoodies. In 11TC we gave Mr Cartwright our tutor group gift to acknowledge his unfailing support and guidance during the past 5 years. After that, we returned to the refectory to have Domino's pizza and to take even more photos. Food and Year 11s is a winning combination!!!
Soon it was time for the iconic leavers' assembly, which included performances from our peers – "Shrapnel Head" who performed 2 rock songs and Molly who sang a solo "I'll Never Love Again" from "A Star is Born" which was totally amazing! Heartfelt speeches followed from our form tutors and Mrs Jones, our Progress Leader since year 8. They then gave us an incredible performance of "The Greatest Showman" which we all really appreciated!
On leaving the hall, we were applauded by the teachers and staff as we walked out of the school and then we took even more photos in the front courtyard and said our goodbyes.
It was an emotional, sentimental and celebratory day that will long be remembered, and we would like to express our thanks to all the staff, past and present, who have contributed so much to shape our school experience over the last 5 years and make us the young people we have become.