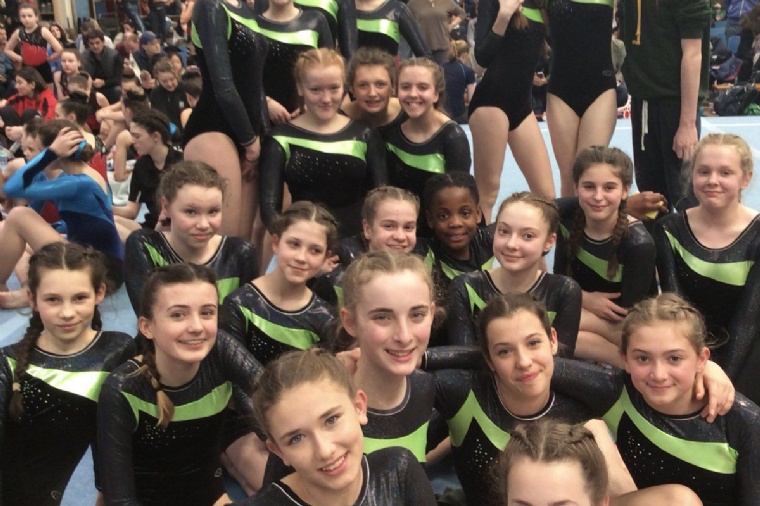 Medals galore at BSGA Southern Region Competition
The British Schools Gymnastics Association Southern Region Schools Acrobatics and Tumbling Competition recently took place at Southampton Gymnastics Club. Mrs Jones took a large squad and she was delighted by all the performances:
"All the gymnasts performed fantastic routines and had worked hard for months in preparation. For many of the gymnasts it was their first competition and they all showed huge potential for next year. The whole group were so supportive of each other and it has been a complete pleasure to work with these gymnasts and to be with them on the day to celebrate their hard work and dedication!"
Gymnasts Caitlin Scott and Maddy Smith also commented:
We arrived at Redbridge Gymnastics Centre for 9 o'clock. All the gymnasts were given a warm up slot and there was a practice gym for all competitors to use during the day. To start off the competition the gymnasts had a march into the arena. It was nerve-racking but all the spectators were clapping and cheering us on.
When we weren't competing or practising there were lots of routines to watch. There were plenty of snacks and drinks available for gymnasts and supporters to purchase throughout the day. It was a really fun, enjoyable day and I can't wait to go again next year!
Here are the full results!
Under 14s Tumbling: 1st (Patrick Page- will go on to represent the southern region at the national finals)
Under 14s regional six: 1st (Caitlin, Lola, Mia, Elsie, Chy-ann, Maisie), 5th (Chelsea, India, Tegan, Izzy, Maisie, Megan)
Over 14s regional six: 1st (Claryssa, Ella, Halle, Kate, Lily-May, Cassidy)
Under 14s mixed pairs: 2nd (Patrick & Paige)
Under 14s national pairs girls: 8th (Kaitlyn & Halle, 9th (Maddy & Bea) 10th (Amelie & Grace) 13th (Tilly & Paige).
Under 14s regional pairs, girls: 4th (Megan & Maisie)
Under 19s national pairs, girls: 6th (Gemma & Ellie), 7th (Holly & Lexi), 12th (Claryssa & Ella),
Under 14s national six: 5th (0.1 away from medals!) (Maddy, Bea, Tilly, Paige, Grace, Amelie)
Over 14/under 19s national six: 4th (Holly, Lexi, Kaitlyn, Tilly, Ellie, Gemma)
@eggars

Do the Maths! Year 10 students Libby, Evie, Jess and Cali took up the Alton School Maths Challenge this week. Working with four future Eggar's students from Bentley School, they tackled three rounds of very difficult problem-solving maths. They were fantastic ambassadors https://t.co/onVvrb3qcJ 10:18 PM - 25 Jun 2022

@eggars

It's Fri-YAY and we're celebrating Matt D and his performance at the National Schools Biathle last weekend. He was placed 2nd in the Year 7 Boys race. (Biathle is an event that can involve a runswimrun course, or simply a swimrun course). #SoundsExhausting #GoMattGo https://t.co/pIe7RXQUpa 6:00 PM - 24 Jun 2022

@eggars

All rounders! Year 9/10 girls continued their strong rounders season yesterday with a 9.5 to 8 win against Alton School. The team were led to victory by Gemma (Batter of the game) and Charlotte (Fielder of the game). #WeAreEggars #GreenArmy https://t.co/nJ2EQkRBBx 3:38 PM - 23 Jun 2022
Follow Us