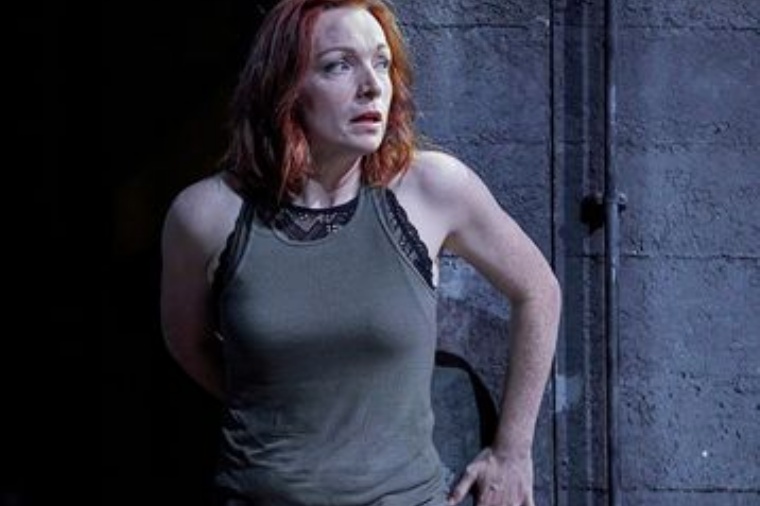 Year 11 trip to impressive production of 'Macbeth'
Nearly 50 Year 10 and 11 students went to see the National Theatre's touring production of Macbeth at The Mayflower in Southampton.
Amelia McKenzie reviews the show:
This production had an exciting contemporary interpretation of the play and although I have read and studied Macbeth for a while, this play seemed fresh and had all the dramatic tension that Shakespeare intended. The set was particularly amazing, designed by Rae Smith. It featured a huge raked platform that was moved throughout the play, allowing for interesting levels and smooth scene changes.
A personal favourite scene was the very beginning, when the witches open the play. The three witches were portrayed as much more eerie and sinister than I have ever imagined, adding to the dark atmosphere and setting the dark tone from the start.
However, the highlight of the play was Kirsty Besterman as Lady Macbeth (pictured, courtesy of the production photos online). She perfectly showed the change in Lady Macbeth's character: strong and manipulative and then full of remorse for her actions. She had a much softer tone to the nightmare scene, making the audience understand her fragile state of mind and completely contrasting to her first scenes with Macbeth. There was also the addition of a scene between Macbeth and his wife after she has taken her life which was heart-breaking and showed Macbeth's love for her despite the change in their relationship dynamic.
Overall, I really enjoyed the play and this dark, contemporary interpretation allowed me to look at the play from a different angle, increasing my understanding of the text.
@eggars

Do the Maths! Year 10 students Libby, Evie, Jess and Cali took up the Alton School Maths Challenge this week. Working with four future Eggar's students from Bentley School, they tackled three rounds of very difficult problem-solving maths. They were fantastic ambassadors https://t.co/onVvrb3qcJ 10:18 PM - 25 Jun 2022

@eggars

It's Fri-YAY and we're celebrating Matt D and his performance at the National Schools Biathle last weekend. He was placed 2nd in the Year 7 Boys race. (Biathle is an event that can involve a runswimrun course, or simply a swimrun course). #SoundsExhausting #GoMattGo https://t.co/pIe7RXQUpa 6:00 PM - 24 Jun 2022

@eggars

All rounders! Year 9/10 girls continued their strong rounders season yesterday with a 9.5 to 8 win against Alton School. The team were led to victory by Gemma (Batter of the game) and Charlotte (Fielder of the game). #WeAreEggars #GreenArmy https://t.co/nJ2EQkRBBx 3:38 PM - 23 Jun 2022
Follow Us