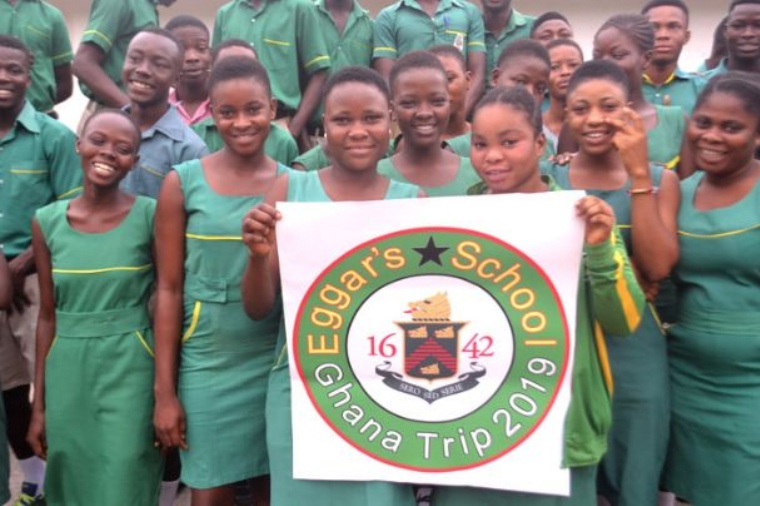 From Holybourne to Mankoadze...
A 9 day trip to Ghana has provided over 20 of our students with some amazing experiences and memories. Their adventure came about when the charity TEABAG (The Education And Book Appeal Ghana) asked Eggar's to join them in support of a school in Ghana. The itinerary included painting a classroom at the village school, visiting a crocodile farm, a concert for disabled children and an inter-schools games competition! It was a very different week for the students in so many ways - not least as they were sweltering in extreme heat, their friends back at Eggar's endured the first snow day of winter!
Read Rebecca Hannan's highlights on the trip:
"When I went to Ghana, there were a few highlights that stood out personally to me. We took a trip to the market and saw first hand the lifestyle and living conditions of the people in Winneba, and what many of the women and children did on a day to day basis.
Living in Mankoadze for the week and seeing how the community ran on trust and helping each other out was really one of the best opportunities and experiences I've ever had. It is such a contrast to how people in Britain behave towards their community.
Another highlight would definitely be when we saw the students graduate and the graduation party. You could immediately see the work and time the graduates and the school had put into it, and you could sense how important the graduation was for everybody, even the people who weren't in the college.
Personally, I made friends with not only people from the village, but people who went on the trip with me who I had not talked to before. The people in the village were so welcoming, and they talked to us like we had known each other for years, especially our buddies who were students from the college who we had been paired up with to help us with anything, and exchange gifts with at the end.
Finally, I wanted to go on the Ghana trip to experience the culture, wildlife, the charity, and to see first-hand the history of the country. The experience was amazing and was better than I ever imagined it. The welcoming community and the different culture was a life changing, unforgettable experience that I would recommend to anyone.