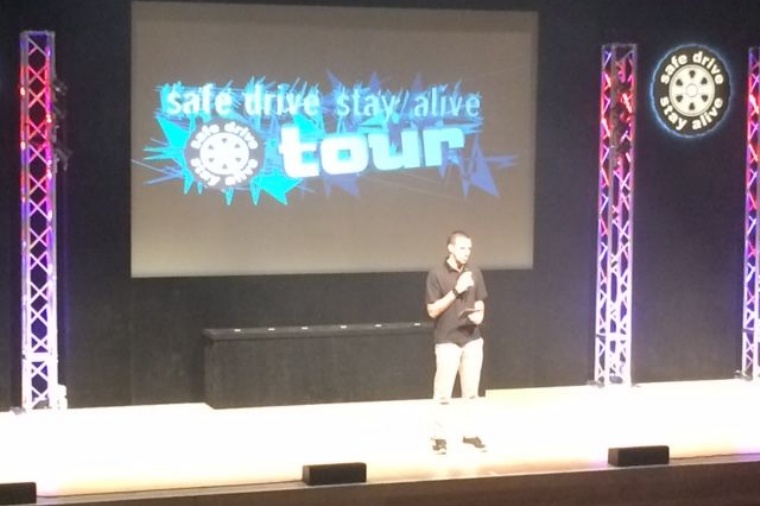 Hard-hitting messages for young drivers...
Around 1 in 4 deaths on the road is aged 17-24. Last year in the Thames Valley and Hampshire alone an average of 4 young people per week were killed or seriously injured.
These alarming statistics were the motivation behind our visit to The Anvil this month to listen to the powerful presentations at the Safe Drive Stay Alive Tour - a road safety campaign which has been working for years to reduce the number of people dying on the roads. It specifically reaches out to new and pre-drivers in an emotive and hard-hitting way, influencing behaviour and attitude on the roads.
It definitely made an impact on our students:
"It was a really emotional and hard hitting day. The stories from the Police and Fire Service were very moving and they were so brave to share them and to still be dealing with similar situations today. There was one story from Becci Hey that was very touching. Becci used to be a teacher at Eggar's but sadly moved to Devon a couple of years ago. She was a very brave woman for sharing her story about her son Josh and we were all very proud of her. I think her story had everyone in tears and how she managed to stay strong through the speech was amazing. Her son was only 20 when he was killed in a car crash on the way to a party. His friend was driving and at a high speed lost control of the car. Becci said that only 35 minutes before the crash happened Josh had come down stairs to ask her how he looked and to tell her not to wait up for him. She said the only good thing was that her son wasn't in any pain when he died.
I think this Safe Drive. Stay Alive campaign is such a good idea to teach young people they are driving a weapon not just a car. We heard loads of different stories about people using their phones while driving and the effects on them and others. One girl was driving her friends on a night out. However she dropped her phone on the car floor and, in trying to pick it up, she lost control of the car and it was hit side on. One of her friends died and one was paralysed. She was arrested and lost her licence".
Joey Boutle, a Year 11 student.

@eggars

We hope everyone has a happy, active Easter. Looking forward to summer activities on our return https://t.co/UM4kOigExA 6:57 AM - 01 Apr 2023

@eggars

Wishing everyone a relaxing Easter break and please read our latest newsletter. https://t.co/M6P02Ly3ch https://t.co/4EwzE5sGDt 1:02 PM - 31 Mar 2023

@eggars

End of term and our Refectory have Hot Cross Buns on offer for the students and staff. The team do an amazing job keeping everyone fed and happy at school. #easter #endofterm #WeAreEggars https://t.co/mv568iwwdw 9:25 AM - 31 Mar 2023
Follow Us