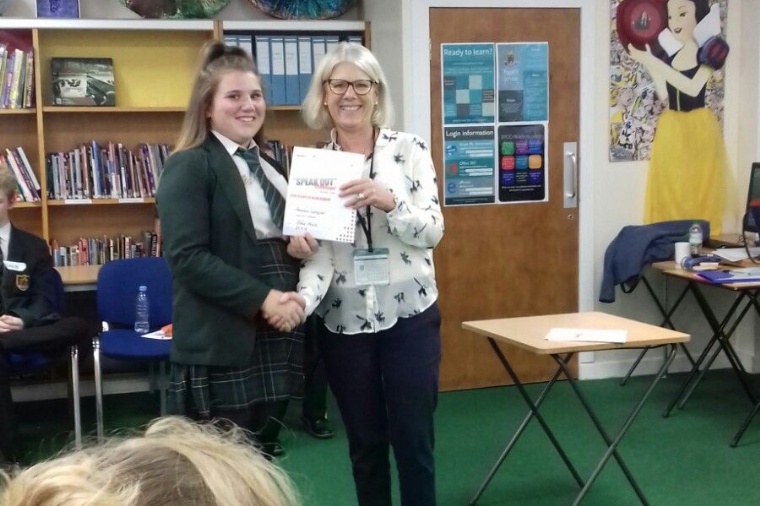 Confidence and communication for Year 10 students
A group of Year 10 students took part in the Speak Out Challenge this week. It is the first time we have entered the competition and it proved both challenging and inspiring!
The students had a workshop for the day, led by Julia Maile. She took them through the art of communication: the reasons why it is important to be an effective communicator; the settings in which they might use these skills; a reflection on past public speaking opportunities and what could be coming up in the next few years.
They undertook some fun activities to build their confidence in talking to each other and their goal for the day was to create a speech of 2-3 minutes on anything they wanted to speak on. The group all participated in this and we had a range of topics from how teenagers are perceived by society to personal family anecdotes.
Six students did particularly well: Josh, Cobie, Jennie, Pandora, Rhett and Leo who will now take part in the next level of the competition to go forwards to the final. Congratulations to all 21 participants!
What the students thought of the day:
Really well taught and it really helped. Thank you. ( Cobie)
It was very fun and I always felt involved. (Joe)
You start up thinking the worst but by the end you realise how beneficial it is and how much you can learn in such a short time! (Ridhka)
For the first time I made a speech formally to a group, and I feel great! (Jennie)
I absolutely loved it, it was an experience of a life time. (Kerri)
I've improved so much today - I feel like I could deliver another speech right now. (Beth)