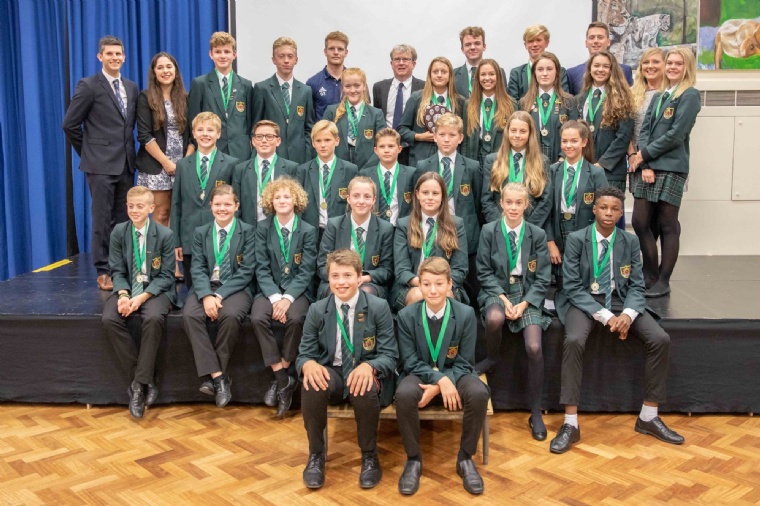 Recognising our top sporting performers!
A packed hall on Wednesday evening saw our first ever Celebration of Sport. The idea was to promote, share and celebrate all the fantastic sporting success that Eggar's students had achieved over the past academic year. Proud parents and students watched the year's high achieving teams and individuals, with over 140 Junior and Senior Sporting Colours also presented.
It was great to welcome back Brad Taylor as our Special Guest – a former Eggar's student who is currently a Hampshire County and England U19 cricketer. Brad became the youngest player to appear for the Hampshire first XI since 1867, playing against Lancashire at the age of 16 years and 154 days, even before he had discovered the results of his GCSE exams! He generously donated a signed Hampshire CC shirt to the school and gave out the medals with Head Teacher, Patrick Sullivan.
The PE Department hosted the evening and described some of the great sporting achievements this year. In particular, the Team of the Year award was a really close run competition between 3 very strong teams:
The gymnastics squad which had 6 students qualify for the National Finals.
The Year 9 rugby team were County champions and went through to the Hampshire festival undefeated.
The U15 girls cricket team however were the winners!
They were County champions in the softball format of the game, the 2nd best team across the Southern Counties and County runners up in the hardball format of the game.
There was also a fantastic video of this year's powerful Rock Challenge performance from March 2018 which got a tremendous response from the very appreciative audience.
Eggar's Celebration of Sport will become an important annual event in the school calendar.